Canola Climbs to All-Time High as Heat Scorches Parched Plains
(Bloomberg) -- Canola extended its rally to a record as searing heat in key growing regions raised supply concerns for the oilseed used in in everything from salad dressings to deep-frying.
Sweltering temperatures in the Canadian Prairies are stretching into the U.S. Northern Plains and parts of the Midwest. Canola futures are up almost 8% this month. Soybeans and soybean oil also advanced on Monday.
Oilseeds have rallied in recent months amid crop worries in some regions, relentless crop demand by China and higher energy prices that tend to boost markets in vegetable oils used in fuels. There was heat across Manitoba over the weekend, and "hot and dry weather stressed spring wheat and canola, particularly in the southeastern Prairies," according to a Maxar report on Monday.
Canola futures rose as much as 2.7% to an all-time high of C$784.40 a ton before paring gains on ICE Futures U.S.
There may be some relief for tight global oilseeds markets. Australia increased its canola crop forecast by 20% from March as strong prices and excellent planting conditions encourage farmers to expand production.
Soybean futures in Chicago rose by the most since May 12 before paring gains. Corn futures for July delivery climbed above $7 per bushel on Monday before erasing advances.
Heat further last depleted already short soil moisture in some North American growing regions, and that was worsened by equally high temperatures over the weekend, said Tobin Gorey, agricultural strategist with Commonwealth Bank of Australia.
"The market will remain hypersensitive to these weather issues because feed grain supply is tight," Gorey said Monday in a note.
The U.S. Department of Agriculture issued weekly report Monday after trading closed in Chicago showing the proportion of corn and spring wheat crops classified as "good" or "excellent" fell.
"Crop condition ratings were expected to drop, but not as much as they did in actuality," Jack Scoville, a vice president for Price Futures Group in Chicago, said about corn in an email.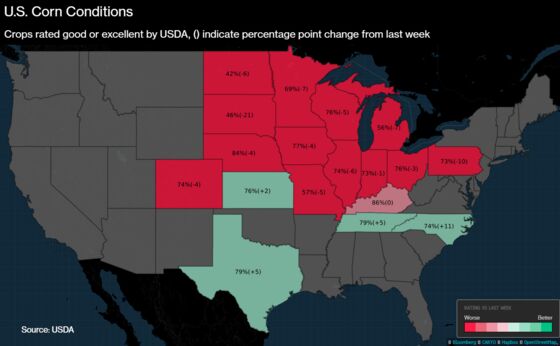 CROP SURVEY: Analysts See Lower Corn Supplies Before WASDE
The heightened crop concerns come ahead of a monthly report from the U.S. Department of Agriculture on Thursday. Analysts expect that will show a further drawdown in world wheat and corn stockpiles.