Cannabis Shorts Gain After Tilson Conference Despite Expense
(Bloomberg) -- For those who think cannabis stocks are over-valued, it's getting expensive. The cost to borrow and the frequency of recalled shares is rising as demand to short the stocks grows, according to financial analytics firm S3 Partners.
Cannabis stocks handed shorts a $157 million mark-to-market gain on Tuesday driven by losses in Canopy Growth Corp., Aurora Cannabis Inc., Tilray Inc. and Aphria Inc., according to S3 managing director Ihor Dusaniwsky. Tilray and Aphira were mentioned as attractive shorts at Whitney Tilson's short conference in New York on Monday. Aristides Capital LLC 's Chris Brown argued that growing marijuana is a commodity business and said Tilray was overvalued by more than 40 percent.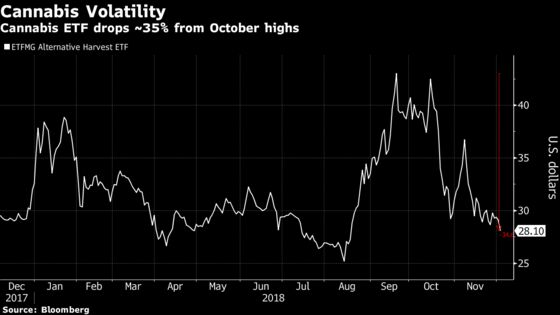 Dusaniwsky says stocks like Tilray average 50,000 to 100,000 shares worth of recalls on a daily basis with total sector financing expenses hitting $2 million per day.
While shorting the sector may be an expensive and volatile proposition, stock borrow availability should increase along with rates as institutional investors build long positions in the sector, according to S3.