Cannabis Industry Faces 'High Hurdles,' Guggenheim Says
(Bloomberg) -- The potential U.S. cannabis market faces "challenging hurdles," and most investors think pot companies are overvalued, Guggenheim analyst Laurent Grandet wrote in a note after attending the 2nd Annual Institutional Capital & Cannabis Conference in New York.
Guggenheim found that most investors at the conference of more than 500 attendees think pot companies are overvalued. "Some suggested we were in an asset bubble that could last up to 5-6 years," he wrote.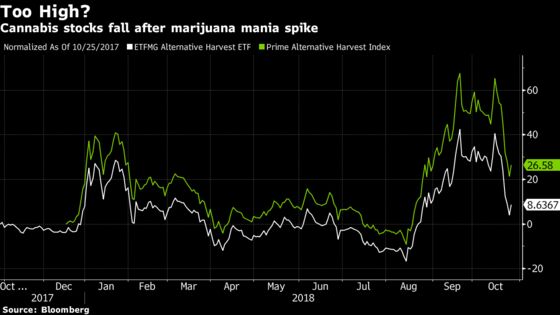 Grandet is skeptical of Constellation Brands Inc.'s investment in Canopy Growth Corp., saying it makes it a "significantly riskier stock to own." "Our biggest concern with Constellation is that, in the absence of the next big growth opportunity, the company has made a sizable investment in something that exceeds the current risk profile of the business," he said. "We think the stock merits a discount to where we would price the business if the second investment in Canopy had never occurred."
Grandet cited contingencies in Canadian recreational approval and the lack of a clear timeline for U.S. Federal recreational legalization among challenges. "In our view, we should not expect many beverages opportunities coming before the second half of 2019 at best," he said.
Even with federal legalization, there will still be regulatory issues. "As
cannabis is an active molecule, the FDA will be responsible for regulating usage, authorizing concentration levels of the active ingredients, monitoring food and beverage safety, including manufacturing, along with many other areas of enforcement. And this will take time." He also noted comments from Neal Levine, CEO of the Cannabis Trade Federation, that currently the IRS confiscates up to 80 percent of cannabis business' profits.