Canada Bonds Join Global Sell-Off With Yields at 4-Year High
(Bloomberg) -- Canadian bonds joined a global sell-off with the yield on 10-year government debt jumping to the highest in more than four years as traders bet on speedier interest rate hikes after the country signed a renewed free-trade agreement with the U.S.
The yield on benchmark debt due 2028 touched a high of 2.547 percent Wednesday, the highest since April 2014 and up from a low of about 2.05 percent in January. Yields on 2-year notes reached a decade high of 2.311 percent, while the five-year yield jumped to the highest since 2011, at 2.453 percent.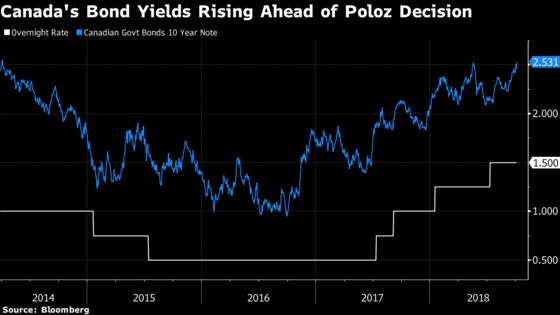 Canadian yields matched increases in other global debt markets. The yield on 10-year U.S. Treasuries, a benchmark for global borrowing, rose to the highest level since 2011 after American companies added the most workers in seven months in September. The rate on 30-year securities reached a four-year high and the dollar gained.
"The real kicker were the job indicators from the U.S.," said Mark Chandler, head of fixed-income research at RBC Capital Markets. He forecasts the 10-year Canadian yield at 2.6 percent by the end of the year.
Canada on Sunday joined the new U.S. Mexico Canada Agreement, the trade deal known as USMCA, removing the most immediate uncertainty weighing on Bank of Canada governor Stephen Poloz's plan to gradually raise the benchmark rate. With the world's 11th-largest economy running close to capacity, the central bank is focused on keeping price increases under control. On Tuesday, Royal Dutch Shell Plc and its partners approved a plan to go ahead with a C$40 billion ($31 billion) project to export Canadian natural gas.
The developments hang an "open for business" sign on Canada, said Ryan Goulding, a fixed-income manager at Vancouver-based Leith Wheeler Investment Counsel Ltd., which manages C$20 billion of assets. "I'm really surprised that Canada 10s and 30s aren't higher vs the U.S." treasuries.
The Bank of Canada last tightened monetary conditions in July, increasing its overnight lending rate 25 basis points to 1.5 percent. The benchmark rate is likely to end the year at 1.75 percent, according to a September survey of analysts by Bloomberg News. The next announcement is scheduled for Oct. 24. The market-implied probability of a rate hike next month is about 98 percent, according to swaps trading.