Canada Suffers Slowest Population Growth Since World War I
(Bloomberg) -- Canada's population grew at the slowest pace in more than a century as Covid-related restrictions curbed immigration.
The nation's population rose by just 0.4% in 2020 to 38,048,738, Statistics Canada reported Thursday in Ottawa. That's the slowest annual growth since 1916, during World War I. In absolute numbers, the 149,461 annual increase was the smallest since 1945.
A drop in international migration from closed borders was the main contributor. Canada welcomed 184,624 immigrants in 2020, down by almost half from 2019. Also, more non-permanent residents left the country last year than came in, resulting in a loss of 86,535 people. That's the largest net loss of foreign residents such as workers and students on record.
Over the past five years, immigration has accounted for more than three quarters of Canada's total population growth, but that figure dropped to 58% in 2020. The inflow of newcomers has been a key pillar of the country's overall economic growth, having an impact on everything from the housing market to banking services.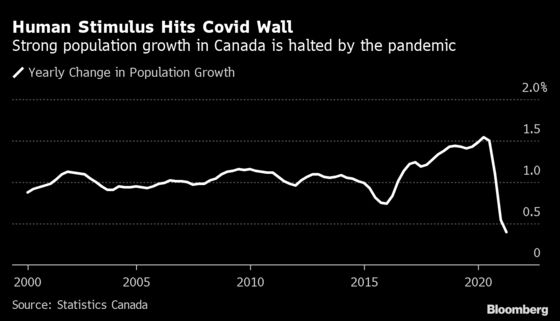 "Safely resuming population flows is critical to Canada's recovery from Covid-19," Marc Desormeaux, an economist at Bank of Nova Scotia in Toronto, said by email. Immigration numbers started to tick up again at the start of 2021, he added. "It's just one month of data, and not every province has seen as much of an improvement, but it's still encouraging."
Prime Minister Justin Trudeau has prioritized immigration, seeing it as necessary to counter the impact of aging demographics on the labor force. This year, the government is targeting 401,000 permanent residents to make up for missing its 2020 goal of 341,000 due to the pandemic.
With borders closed to all non-essential travel since last March, the government is now focused on converting temporary residents -- foreign workers and international students -- to permanent ones. While January numbers suggest that effort is off to successful start, it's still early days.
"I don't think we'll know until at least the summer what the full impact of the government's recent push to dramatically increase permanent residents, and to what extent these will actually reflect an increase in the number of people as opposed to just a change of status," Andrew Agopsowicz, an economist at Royal Bank of Canada, said by email.
Population growth in Canada was also impacted by the deadly nature of the coronavirus. The number of deaths last year increased to a record, surpassing 300,000 for the first time in the country's history. Covid-19 was responsible for one in 20, the statistics agency said. The natural increase in population -- the difference between births and deaths -- also fell to 62,834, the smallest increase since at least 1922.