Canada's Labor Market Picks Up Steam for Second Month
(Bloomberg) -- Canadian employment strengthened for a second-straight month, helping quell concerns that a weak labor market might force the Bank of Canada to promptly lower interest rates.
Canada's economy added 34,500 positions in January, all in full-time work, Statistics Canada said Friday in Ottawa. That beat economist expectations for 17,500 new jobs. The unemployment rate dropped slightly to 5.5% in the month, from 5.6% in December. Wage gains accelerated 4.4% and hours worked rose 0.5%.
Today's positive reading coupled with December's print of a similar employment gain has more than offset the weakness in November, when the country shed 54,400 jobs. The three-month moving trend turned positive for the first time since October, another reassuring sign for the economy.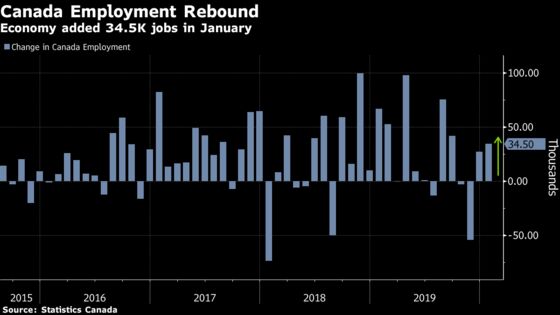 Canada's currency appreciated on the report and was trading up 0.2% to C$1.3308 against its U.S. counterpart at 8:48 a.m. Toronto time. Two-year government bond yields were little changed at 1.48%.
A second strong reading will help support the view by the Bank of Canada that the labor market remains healthy and that weakness in the overall economy is coming from

one-off

events and geopolitical tensions
The report was largely in line with forecasts for a modest gain; most economists expect job growth to continue in 2020 albeit at a slower pace than the robust growth seen in the first half of 2019
Most of the gains in January were concentrated in the public sector, expanding by 21,300; private sector employment was up 5,000 and self-employment rose by 8,300
Provincially, Ontario and Quebec led employment gains up 15,900 and 19,100, respectively; Alberta employment fell by 18,900
Manufacturing jobs increased by 20,500 nationwide, the most since November 2017. Manufacturing and construction were the biggest gainers
Jobs in the services-producing sector dropped 14,500