Canada's Economy Powers Into 2021 Despite Covid Restrictions
(Bloomberg) -- Canada's economy is showing surprising strength as businesses stock up on inventories in anticipation of a super-charged recovery this year.
Gross domestic product expanded at a 9.6% annualized rate in the fourth quarter, according to a preliminary estimate released Tuesday by Statistics Canada in Ottawa. That's much faster than the 7.3% median forecast in a Bloomberg survey. A flash estimate from the agency showed GDP on track to grow 0.5% in January, defying expectations for a contraction to start the year.
The numbers highlight how well the nation's economy handled the latest wave of lockdowns, resilience that's stoking expectations for a strong rebound in 2021 after the nation suffered its sharpest downturn in the post-World War II era.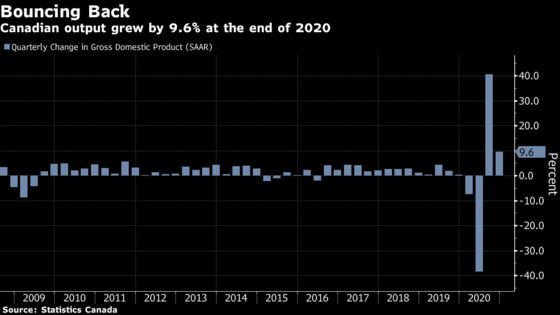 "It's inconceivable someone isn't going to revise up their forecasts based on what's happening," Jean-Francois Perrault, chief economist at Bank of Nova Scotia, said in a phone interview. Perrault said he will be lifting his 5.3% growth forecast next week, with other major banks expected to follow suit.
Bank of Montreal isn't wasting time, predicting a 6% expansion. That's up by a full percentage point from its previous forecast and would mark the fastest growth since 1973.
The Canadian dollar pared losses after the report, and was trading little changed at C$1.265 per U.S. dollar at 10:29 a.m. in Toronto. Yields on Canadian government five year bonds were up one basis point to 0.83%.
What Bloomberg Economics Says...

"At nearly every stage of the recovery, Canadian activity has proven more resilient than expected. The combination of strong household fundamentals, an impending rebound in job growth, and resolute fiscal support mean a strong pickup is still in store in 2021 and 2022."

-- Andrew Husby, economist

For the full report, click here
The biggest contribution came from businesses rebuilding inventory levels after two successive quarters of drawing down stocks, a sign companies are bracing for a pick-up in demand. That helped offset a very weak end of the year for consumer spending, which recorded an unexpected drop amid a wave of Covid-19 restrictions.
Consumers have been hoarding cash. While the household savings rate declined to 12.7% in the fourth quarter, from as high as 27.8% earlier this year, it's still historically elevated. That will provide a source of pent-up demand that bodes well for future growth.
"The expenditure composition isn't that great, with most of the add to growth coming from inventories," Nathan Janzen, an economist at Royal Bank of Canada in Toronto, said by email. "But hard to view this report as anything other than positive relative to prior expectations."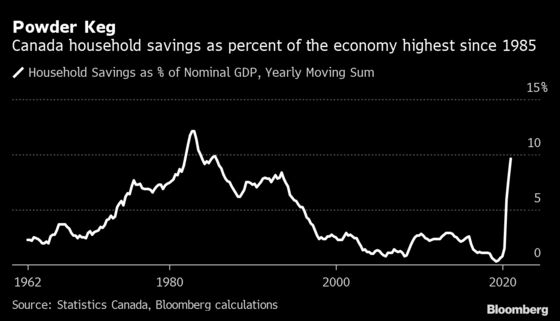 Other major contributors to growth at the end of last year included government consumption and housing investment, driven by a hot real-estate market. Non-residential business investment remains a bit anemic, gaining 4.2% on an annualized basis.
For all of 2020, Canadian GDP shrank 5.4%. That's a bigger hit than in the U.S., which recorded a 3.5% drop in output.
The downturn was limited to a 38.5% annualized contraction between April and June, followed by a 40.6% expansion in the third quarter. Output in the fourth quarter was 3% below pre-pandemic levels.
While the data will be welcome by policy makers, it raises another question: is there already enough stimulus in the economy. Prime Minister Justin Trudeau has said he wants to keep the spending taps open for the next few years on the grounds the economy will need continued support.
The Bank of Canada will also need to acknowledge a better outlook, potentially pulling forward the timeline for paring back monetary stimulus. Policy makers led by Governor Tiff Macklem will set rates next week, but a full set of new forecasts isn't due until April.
"They'll have a more positive message because the reality is things are better than everyone thought a few weeks ago," Perrault said. "They'll have to reflect that in their statement for sure."