Canada's Banks Get Green Light to Resume Share Buybacks, Dividend Increases
(Bloomberg) -- Canada's banks will be able to resume buying back shares and increasing their dividends after regulators removed restrictions put in place to protect the financial system during the pandemic.
Banks may immediately begin increasing regular dividends and executive compensation, the Office of the Superintendent of Financial Institutions said in a statement Thursday. Subject to approval by the superintendent, the firms may once again repurchase their stock as well, OSFI said.
"Canada's federally regulated financial institutions have weathered the shocks of the pandemic quite well in 2020 and 2021," Peter Routledge, head of OSFI, said during a virtual event Thursday. "As such, we do not believe that lifting these expectations -- which were always intended to be temporary -- will detract from financial institutions' ability to support the economic recovery or from public confidence in the Canadian financial system."
The decision was made after banks began to release provisions for loan losses in recent quarters and Canadians returned to making mortgage payments after their six-month deferrals ended without a wave of defaults, Routledge said during a later media briefing. The banks' continued solid financial performance during an increase in Covid-19 cases over the summer and into the fall also contributed to the decision, he said.
The pandemic now appears to be more of an endemic issue that Canada's economy can withstand, and the dividend and buyback restrictions aren't likely to be reinstated except in the event of another unusual "economic and financial shock," Routledge said.
The move, which comes months after the Federal Reserve lifted similar constraints on U.S. firms, lets Canada's banks start releasing the stockpile of capital they amassed to protect against a wave of pandemic-induced defaults that never occurred. Canada's six largest banks could return a combined C$47 billion ($38 billion) in cash to shareholders and still exceed regulators' capital requirements, according to an analysis by Bloomberg Intelligence.
Canadian bank stocks pared their losses for the day on the announcement. The S&P/TSX Commercial Banks Index, which includes Canada's eight largest banks, ended Thursday little changed after earlier falling as much as 0.5%.
Bank of Montreal and National Bank of Canada may be the biggest beneficiaries of the restrictions being lifted, Barclays Plc analyst John Aiken said in a note to clients Thursday. National Bank has the capacity to boost its dividend by about 50%, while Bank of Montreal could increase its payout 46%, he said.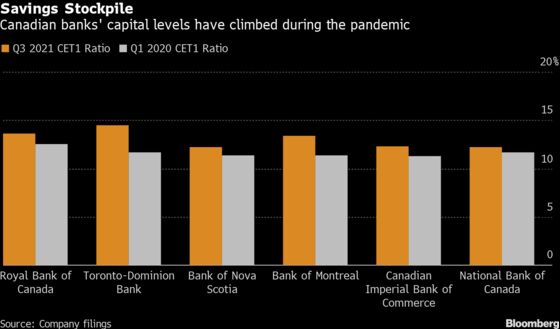 The average common equity tier 1 capital ratio for Canada's six largest banks has crept up from 11.7% in the fiscal quarter ended January 2020, before the pandemic took hold in North America, to 13.3% at the end of July. That means the banks are currently holding about C$57 billion in capital beyond what regulators require, according to Bloomberg Intelligence. Even returning C$47 billion to shareholders would leave them with a C$10 billion cushion beyond what's required. 
The banks typically target a CET1 ratio of 11%, higher than the 10.5% regulatory minimum, and they have about C$47 billion in surplus capital above that higher level, Bloomberg Intelligence said. 
OSFI's Routledge said that the regulator acted out of an abundance of caution in maintaining its restrictions as long as it did.
"If I were going to get criticized as superintendent, I'd rather be criticized for being a little too careful rather than a little bit too reckless," he said. "I'll wear the criticisms with a badge of pride."