Canada Imports Plunge as Chip Shortages Disrupt Automobile Trade
(Bloomberg) -- Canada's trade balance swung into surplus, as imports plunged due to supply disruptions in the auto industry.
The country posted an unexpected merchandise trade surplus of C$594 million ($492 million) in April from a revised deficit of C$1.35 billion a month earlier, Statistics Canada reported Tuesday in Ottawa. Economists were anticipating a deficit of C$800 million for the month.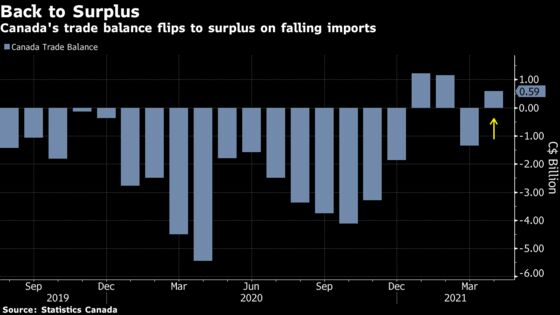 The numbers reflect a sharp drop in imports, which were down 4.7%. That was led by a 22% decline in imports of motor vehicles, reflecting production shutdowns in the auto industry because of a shortage of semiconductors.
Excluding cars, imports were down 1.3%.
Exports fell 1% in April, also reflecting the auto assembly disruptions.