Canadian Consumer Sentiment Shows Signs of Life After Tough Summer
(Bloomberg) -- Canadian consumer confidence showed signs of rebounding in the final weeks of what has been a dismal summer for sentiment.
Polling by Nanos Research for Bloomberg showed worries about the economy eased somewhat in August after peaking a month earlier, with people also feeling better about their personal finances. The broad consumer confidence index rose to 56.5, compared with 55.4 at the end of July. It fell to a two-year low in June.
The survey suggests households are beginning to worry less about the escalating trade frictions with the U.S. that have clouded Canada's economic prospects since the summer. That may be partly because talks to update the North American Free Trade Agreement are more advanced than they were a month ago. Still, the majority of responses were given before last week's stalemate between Canada and the U.S. in those negotiations.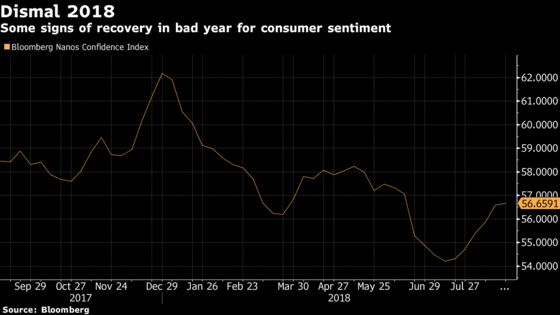 Even with the pick up in August however, sentiment remains well below average. It plunged in June following the fracas between U.S. President Donald Trump and Canadian Prime Minister Justin Trudeau over trade issues at the Group of Seven summit. That came on top of depressed economic readings that for much of 2018 reflected headwinds including higher interest rates and slowing housing markets.
The sentiment slide had been most acute in the expectations for growth, which tumbled in the face of the trade tensions. Yet, these worries are dissipating. The share of Canadians who expect the economy to worsen ended August at 36.6 percent, after reaching as high as 48 percent in July. The reading has averaged 27 percent over the past five years.
Will the Canadian economy be:
Aug. 31
July 20 (Peak)
June  1
Stronger
Weaker
No Change
Unsure
16.4
36.6
36.9
10.1
12.8
48.0
30.8
8.4
19.2
27.8
45.5
7.5
Every week, Nanos Research asks 250 Canadians for their views on personal finances, job security, the outlook for the economy and where real estate prices are headed. Bloomberg publishes four-week rolling averages of the 1,000 telephone responses. A composite indicator -- the Bloomberg Nanos Canadian Confidence Index -- is also calculated from the rolling averages of the four questions.
The survey has a margin of error of 3.1 percentage points.