Can't Fill the Seats? MLB's Rays Decide to Shrink the Stadium
(Bloomberg) -- The Tampa Bay Rays had Major League Baseball's second-worst attendance last season. Rather than try to win more fans, the club has opted to lose seats.
The Rays are reducing capacity at Tropicana Field to 25,000 to 26,000 from about 31,000, creating "a more intimate, entertaining and appealing experience," President Matt Silverman said Friday in a statement posted on the team's website.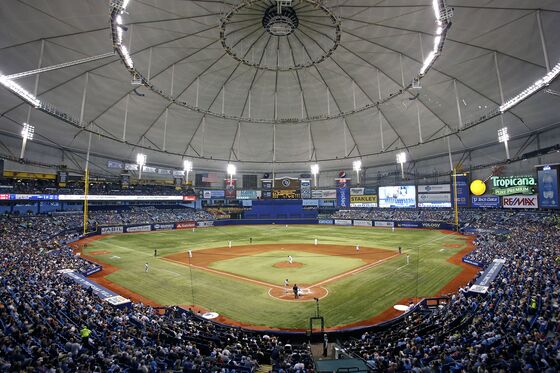 The team, owned by former Goldman Sachs Group Inc. partner Stuart Sternberg, averaged 14,258 at the domed stadium last season, better than only the Miami Marlins among MLB teams.
The renovations include closing the upper deck and creating an area in lower left field that'll feature premium seating for small groups and social spaces, such as bars, which professional sports teams are using to court millennials.
Pro sports teams are increasingly relying on more expensive premium seats to drive revenue. The most recent renovation undertaken by the Cleveland Indians, for instance, included more social spaces along with a seating reduction.
The Rays have been seeking a new facility, and have said they're committed to remaining in the Tampa area.
The Rays said they've spent more than $15 million for stadium renovations the past two years. The club didn't say how much the latest changes would cost. The team went 90-72 last season.