Campus Tours Turn Into Hot Tickets as Schools Start Reopening
(Bloomberg) -- If you think getting into college is tough, try landing a campus tour.
High schoolers and their parents are discovering it has become a challenge to book visits to colleges they're interested in.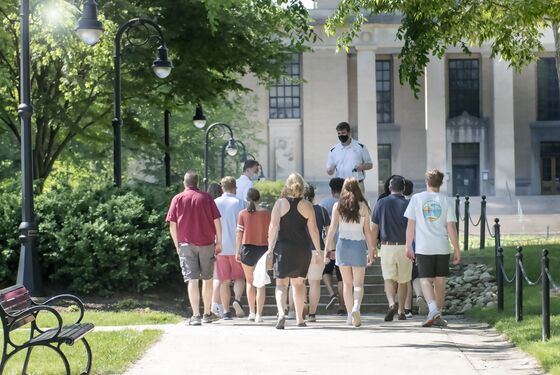 Many schools have curbed the number of tours or family groups that can attend, creating a scrum for available spots. Penn State University is fully booked at its University Park campus through the first week of August. Middlebury College in Vermont is offering five to seven tours a day, limited to only one family per tour guide. Tours at Stony Brook University in New York are limited to no more than two people per household.
Demand is surging as schools resume operations after closing or curtailing access at the height of the Covid-19 pandemic. College admissions officials see the crowds as a sign that schools stand to recover after losing enrollment and revenue because of the health crisis.
Colleges hope to increase tour capacity in the summer, depending on health guidelines, and they continue to offer virtual visits.
For many high school juniors, seniors and their families, the college visit is a rite of passage -- akin to window shopping for a very expensive item.
But if you're thinking of browsing at an Ivy League school, think again. The schools including Harvard, the University of Pennsylvania, Yale and Princeton aren't welcoming families just yet, citing Covid-19 risks.