Who Wins in This Campbell Soup-Loeb Compromise?
(Bloomberg Opinion) -- Often, a compromise is thought of as a scenario in which everybody wins. And that's clearly how Campbell Soup Co. would like you to think of its settlement with activist investor Third Point.
The struggling packaged-food giant announced Monday that it had arrived at an agreement with Dan Loeb's firm, which had taken a stake in Campbell and was agitating for major change. The parties have agreed that Campbell will expand its board from 12 members to 14 members; the new additions, Sarah Hofstetter and Kurt Schmidt, were put forward by Third Point. Third Point also will weigh in on the selection of a new CEO for Campbell, which has been steered by an interim leader since Denise Morrison was pushed out earlier this year.
I worry, though, that this conclusion isn't going to do much to pick up the pace of transformation and innovation at Campbell. Investors seem to agree,  at least initially: The stock declined more than 3 percent Monday.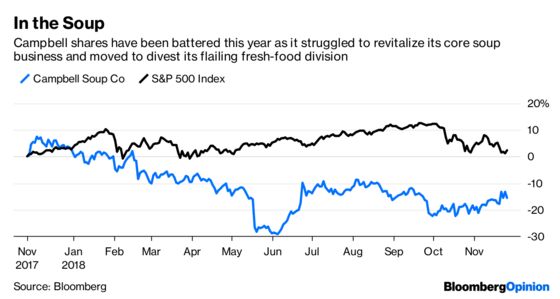 This outcome is nothing close to Loeb's earlier vision of radical change. He had previously advocated the entire business be put up for sale and had aimed to replace the full slate of the company's directors. It's possible this was all by design, and that he made a bold initial ask as a tool to move the negotiation goal posts. But, either way, with only two seats at the table, it's not going to be particularly easy to exert influence.
Think, for example, of what we've seen at a much larger consumer company, Procter & Gamble Co., in the wake of its acrimonious proxy fight with Nelson Peltz. We have only just started to see glimmers of change that appear to reflect Peltz's influence. In particular, P&G said earlier this month that it would reorganize into six business units, a streamlining that is consistent with an idea Peltz had put forward to make the business more agile.
But it has taken time for Peltz to make an impact. And, unlike Loeb at Campbell, he's not dealing with a company where descendants of the founding family are major shareholders and board members.
Meanwhile, I'm not sure this result does much to help Campbell snare a top-notch CEO. Yes, it means said leader will get to start at Campbell with this proxy battle in the rearview mirror. But with both factions still licking their wounds and neither getting everything they wanted, it remains to be seen how well they can work together. That makes for one more uncertainty at a company with an already uncertain future.
Even before Loeb disclosed his position, I'd argue this board had already hobbled its own CEO search. It undertook a major strategic review under an interim leader, which led to the decision in August to put its fresh business and international businesses up for sale. So now, whoever they hire doesn't get to build a strategy for this troubled company from the ground up. Essentially, he or she has to jump into a car that is already in motion. Campbell needs a real visionary, and I suspect they'll be hard pressed to find one with those constraints.
The best thing this new board can do, at this point, is present a united front to would-be job candidates.
This column does not necessarily reflect the opinion of the editorial board or Bloomberg LP and its owners.
Sarah Halzack is a Bloomberg Opinion columnist covering the consumer and retail industries. She was previously a national retail reporter for the Washington Post.