Campbell Gets Fuel in Fight With Activist After Sales Beat Estimate
(Bloomberg) -- Campbell Soup Co. reported "improved trends" for its soup business and posted sales and profit that outpaced estimates, giving the company firmer footing in its battle with activist investor Dan Loeb. The shares jumped the most in almost five months.
Net sales of $2.69 billion exceeded analysts' projections, while adjusted profit of 79 cents was well above the expected mark.
The results won't help Loeb, who's trying to replace the company's board. He scored a victory last week by securing support from two prominent shareholder advisory firms ahead of the Nov. 29 annual meeting.
Campbell has been facing a decline in popularity for its signature product: canned soup. The company reported that sales fell for its ready-to-serve and condensed soups, partially offset by gains in broth. Snacks also saw solid performance, the company said.
The entire packaged-food industry has been struggling to boost sales as consumers flock to healthier options and trendier brands, and Campbell's lack of a permanent leader has made it ever tougher to formulate a plan. Interim Chief Executive Officer Keith McLoughlin said there's strong interest for the international and Fresh divisions as the company seeks to divest them.
Campbell reaffirmed its earlier forecast and said fiscal 2019 will be a "transition year" as the company carries out its turnaround plan. The shareholder vote still looms, however, and if Loeb succeeds, he may push for more drastic measures.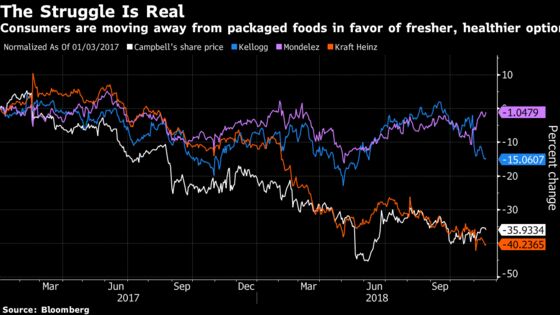 Campbell rose as much as 7.4 percent to $41.30 Tuesday in New York, its biggest intraday gain since late June. The stock had fallen 20 percent this year through Monday's close.
For more details, click here.