Callaway Golf Should Get a Green Jacket for These Results
(Bloomberg) -- Callaway Golf Co. proves investors right with quarterly results and third-quarter sales guidance that topped even the best Street estimates. Shares are up as much as 20 percent, adding to their 41 percent year-to-date gain through the close on August 2.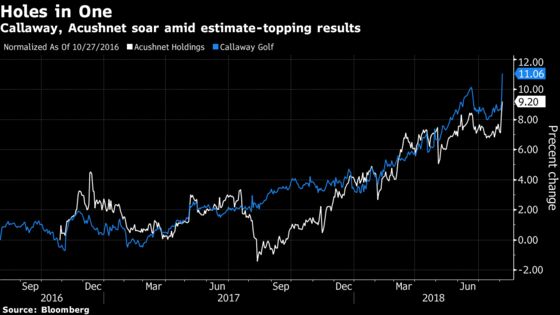 Here is a roundup of analysts' commentary after Thursday's results.
Swartz rates the stock buy and boosts his price target to $24 from $20 after "yet another strong quarter/guidance raise."
Callaway is operating at "a very high level" and "has the wind at its back" as the company continues to benefit from an "improving end market and a strong product pipeline/R&D culture that has resulted in significant share gains over past several years," he writes in a note.
The analyst expects strong revenue growth and margin expansion to continue into 2019 driven in part by "an expected major iron launch, operating efficiencies, and synergies from recent acquisitions."
Roth Capital, Dave King
"Results beat on strong industry growth and market share gains especially in balls, while management raised guidance to reflect the upside, higher revenue, and much stronger bottom-line flow through."
King rates the stock buy, with a new price target of $24, up from $20.
Callaway's second-half outlook "looks conservative given momentum in golf balls and woods," in addition to the "considerable leverage" in its model. Consensus estimates for 2019 "need to be revised higher," Kernan wrote in a note.
"The product cycle across woods, irons and golf balls continues to surprise to the upside," as category growth "continued to be led by innovations such as Rogue woods and irons and Chrome Soft golf balls," as well as the TravisMathew addition.
"The Golf equipment industry is a low growth industry but rounds played, an indicator of the sport's health, has increased in each of the last two years and the industry is in its healthiest inventory position in a decade," he says. Kernan rates Callaway shares market perform, and boosts his price target to $21 from $18.
Meanwhile, shares of golf-company peer Acushnet Holdings Corp. have risen to a record high, up as much as 4.1 percent, after its second-quarter sales also topped the highest analyst estimate. Morgan Stanley's Kimberly Greenberger says "strong product launches and execution appear" provide the setup "for significant potential capital returns as soon as 2019." She rates the stock overweight and boosts her price target to $27 from $25.
Callaway Golf has eight buy ratings, three holds and zero sells, according to Bloomberg data. The average 12-month price target, based on nine analysts' models, is $23. Acushnet has four buys, seven holds, 0 sells, with an average price target of $26.