Californians' Top Priority Isn't on Statewide Ballot This Year
(Bloomberg) -- Californians' top priority -- education -- isn't reflected on the statewide ballot this Election Day.
In an analysis of statewide bonds approved by the electorate since 1972, debt for kindergarten to 12th-grade schools is the largest category at $53 billion, according to the state's finance department. Next is transportation, with $33 billion approved.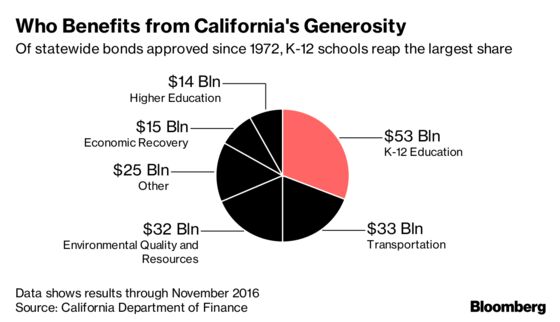 No measures for state funding of education are on the ballot Tuesday. In 2016, voters approved $9 billion in borrowing for kindergarten through community colleges.
Here are the statewide bond measures:
Proposition 1:

$4 billion for affordable housing

Proposition 2:

$2 billion for supportive housing for homeless people who are mentally ill

Proposition 3:

$8.877 billion for water projects and habitat protection

Proposition 4:

$1.5 billion for children's hospitals