California Closes Indoor Dining, Theaters in Hard-Hit Areas
(Bloomberg) -- California Governor Gavin Newsom ordered the shutdown of indoor businesses including restaurants, museums and movie theaters in 19 counties, halting reopenings started just weeks ago as the state grapples with a surge of coronavirus infections.
The areas affected include Los Angeles County, the hardest-hit part of the state, and in total account for more than 70% of California's population, Newsom said at a press briefing Wednesday. The shutdowns will remain in place for at least three weeks, and also include bars, zoos, wineries and cardrooms. Outdoor seating at restaurants will still be allowed.
"We are doing everything we can to focus in on certain sectors of our economy where that spread is more likely to occur," Newsom said at the briefing.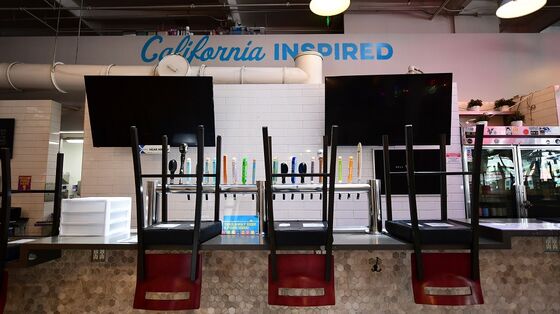 After avoiding the worst of the virus's wrath early in the pandemic, California is now seeing its outbreak accelerate. Total infections nearly doubled in the month of June, while hospitalizations are at new highs. On Wednesday, the state reported 5,898 new cases for the prior day plus another 3,842 infections that previously weren't reflected in data, for a total of 232,657, according to the Department of Public Health.
The state's test positivity rate, a key indicator of community spread, has also climbed. It's now around 6% on a rolling 14-day average, compared with 4.6% just two weeks ago, Newsom said.
The governor has relied on counties to make their own decisions on the pace of reopening, provided they meet certain state guidelines, which has led to a patchwork of different plans. The areas affected by the latest closures are on a "monitoring list" that have showed troubling trends, and include counties such as Orange, Santa Clara and Sacramento, in addition to Los Angeles.
L.A. County, which has more than 100,000 cases, earlier this week closed beaches and banned fireworks displays for Independence Day. Diners had been allowed to eat indoors since May 29, provided the restaurants met certain criteria.
Few industries have suffered as much during the coronavirus as food and hospitality. Restaurants across the country have closed their doors and fired staff, some temporarily and others for good.
"There is no other way to put it -- this new round of widespread closures will be a death blow to many restaurants," Jot Condie, president and chief executive officer of the California Restaurant Association, said in a statement. "As we've said from day one, if restaurants are not allowed to operate -- or can only operate in very limited ways -- they will go out of business permanently without a massive amount of immediate aid from the state."
Newsom, who started several restaurants as a businessman, said in an interview after the briefing that he's deeply aware of those issues.
"I'm one of those pulling my hair out," he said. "This is incredibly challenging."
Beyond outdoor seating, delivery and takeout are also still allowed. Newsom recommended restaurants join his "Great Plates" initiative, in which eateries deliver meals to seniors. Still, he recognized many businesses will be hard hit.
"Mandating in 19 counties outdoor seating exclusively works, if you're next to a parking lot where you can expand seating, or if you're on a wide sidewalk," he said. "It does not work if you're on the second floor of a business, or in the basement of a business, and I'm deeply sensitive to that."
John Terzian, co-owner of L.A.-based H.wood Group, which includes Delilah restaurant and the Bootsy Bellows club, criticized Newsom and Los Angeles Mayor Eric Garcetti for the suddenness of the new shutdown.
"This now impacts suppliers, servers, cooks, bartenders, all people who depend on their paychecks," Terzian said. "Without warning from the city or state, Garcetti and Newsom essentially fired thousands of recently rehired employees. Now they have to reapply for unemployment. This breaks my heart."