California's Newsom Draws Tepid Approval on Fires, Blackouts
(Bloomberg) -- Governor Gavin Newsom is drawing lukewarm approval of his handling of the mass power shutoffs and wildfires that have had pundits declaring California on the brink of ruin.
In a poll by the Public Policy Institute of California, 46% of likely voters disapprove of the way he's tackled the problem, while 42% approve and 12% don't know. That's in line with their take of his overall performance, which hasn't changed much this year, with 48% of likely voters saying they approve of his job as governor so far.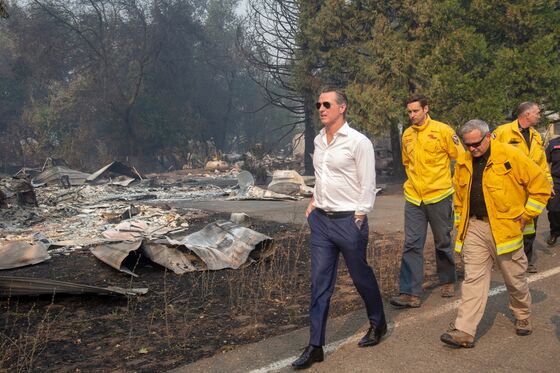 Stakes are high for the Democrat who took office in January weeks before the bankruptcy filing of PG&E Corp., the utility facing billions of dollars in liabilities from fires its equipment ignited. Already, the combined impact of this year's fires and power shutoffs intended to prevent more blazes could put such a large dent in California's economic output that the state might underperform the U.S. economy for the first time since 2010.
PG&E is warning it may cut power again this week, after a series of outages last month that left customers in the dark for days and triggered grim takes of life in California. Newsom has said he "owns" the crisis.
About six in ten Californians are concerned about the threat of wildfires and power shutoffs, the poll showed. Only about a third of likely voters have a great deal or quite a lot of confidence in their local electricity provider, as well.
"Many Californians are concerned about wildfires and power shutoffs in their areas, and they give the governor and local utility providers mixed reviews for their handling of this issue," Mark Baldassare, president and chief executive officer of the institute, said in a statement.
The institute surveyed 1,711 California adult residents, mostly by cell phone, from Nov. 3 to Nov. 12.