Diversity Quotas Aren't Popular, but California Shows They Work
(Bloomberg) -- Maggie Wilderotter was never a fan of diversity quotas. Wilderotter, who has served on more than 30 boards in her career, has argued quotas can give companies an incentive to hire women who are unqualified or unprepared for the job. But after seeing the effects of a controversial California law mandating a woman on every public company's board, she has come to realize that the technique can make a difference.
"I do believe the quotas that have been put in place have become a catalyst," said Wilderotter, who's currently on five boards including Costco Wholesale Corp. and Lyft Inc. "I sit on a number of technology companies, both private and public, and there has been a renewed focus on making sure that all of the slates for new directors include women and that the companies have been thoughtful about the women they're putting on the board."
California lawmakers passed the bill in 2018 requiring all public companies based in the state to have at least one female director by the end of last year. On Monday, the state is expected to publish the first official list of companies that failed to comply. They each face a fine of $100,000 and will have to pay three times that amount if they're still in violation by the end of this year.
But the list of offenders is likely to be short. Most companies went into recruiting mode after the law was enacted. Since then, women accounted for about 45% of new board seats among Russell 3000 companies based in California, compared with about 31% nationwide, according to data compiled by Bloomberg.
The results are challenging a deeply held belief within boardrooms. Diversity quotas were opposed by 83% of all corporate directors, including more than half of the women surveyed, according to research last year from PricewaterhouseCoopers.
Wilderotter, 65, said her companies aren't just meeting the quota; many are exceeding it. At Costco and two other boards on which she serves, each has at least three women. She was the second woman appointed to the board of California chip designer Cadence Design Systems Inc., and the company is seeking a third, she said: "The opportunities are opening up."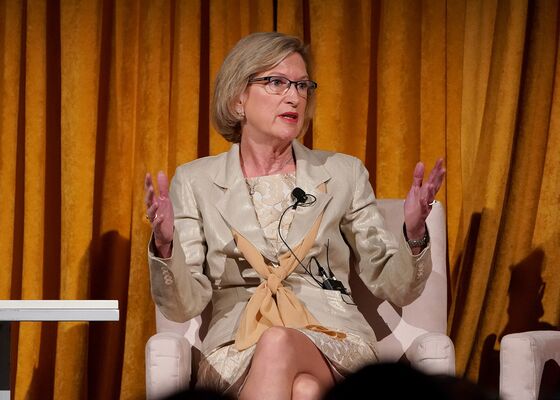 That may be partly due to the next phase of the California law, which is set to go into effect at the end of 2021. It requires companies with five directors to include two women, and those with six or more to have three women. Another incentive is that investors such as BlackRock Inc. are voting against boards without women, and Goldman Sachs Group Inc. said it will no longer underwrite initial public offerings for companies with non-diverse boards. Greenlane Holdings Inc., which makes cannabis vaping products, was the only one of the 25 largest IPOs in the U.S. last year with an all-male board, according to a study released Thursday by 2020 Women on Boards, an advocacy group.
California is giving opportunities to women who have never stepped foot inside a boardroom. Most of the women who joined previously all-male boards in the state last year weren't serving on any other public boards, research from consulting firm KPMG shows. "There was a perception when the law passed that there was a limited pool of qualified candidates," said Annalisa Barrett, a governance expert at KPMG's Board Leadership Center. "It doesn't seem to have been the case."
Karin Eastham, a director at four California companies, remains steadfast in her opposition to quotas. "Nobody ever turned me down because I was a woman," Eastham said. "And we've never turned down a candidate for being a woman, but we always went for the most qualified individual that could be the most helpful to the company." Eastham said one result of the law is that companies are appointing more women to their first board seats. Their colleagues need to ensure the new directors get the training and mentoring necessary to succeed, she said.
Some opponents of the law are taking their arguments to court. California's secretary of state has been sued twice, first by state taxpayers who called the requirement unconstitutional and then by a shareholder of a California-based company who argued it's discriminatory. Hearings in March are set to weigh whether the lawsuits move forward, a process that could last years.
So far, many boards have added new seats for women, rather than replacing their male directors, said Dottie Schindlinger, executive director of the Diligent Institute, which tracks corporate governance trends. "It's simply added more women to the picture, which is not necessarily a bad thing," she said.
Most companies are moving forward as if the law will be strictly enforced, said Vincent Intintoli, a researcher from Clemson University, who studied the effect of the California law with other academics from his school and the University of Arizona. They estimate more than two dozen companies finished the year with all-male boards and may be in violation of the law. To get to the three-women requirement, another 1,000 directors may be needed, Intintoli said.
California frequently sets legislative trends, but most states are waiting to see how the new law plays out. Illinois and New York have opted for diversity disclosure rules instead of quotas for now. Legislators in Hawaii, New Jersey and Washington have introduced bills this year that would add quotas, but the efforts are in early stages, according to the National Conference of State Legislatures.
Keith Bishop, a former financial regulator in California, said state officials were aware that the law was vulnerable to a legal challenge. "Other states recognize that," said Bishop, now a corporate lawyer at Allen Matkins. "Whether the law is ultimately upheld or not, I think it's had an effect."