California Battering by High Winds and Heavy Snow to Persist
(Bloomberg) -- Heavy snow and high winds will sweep Northern California through Tuesday, threatening to bring more power outages and road closures to the storm-battered state.
While more than 2 feet (0.6 meters) of wind-driven snow has fallen across the Sierra Nevada, heavy rain has washed down through lower elevations around Sacramento and Modesto, said Craig Shoemaker, a National Weather Service meteorologist. Sacramento's Executive Airport received 2.51 inches on Monday -- a record for that date --and Stockton and Modesto also had daily highs that has caused some nuisance flooding. 
"It has been a multi-day system and it is going to continue through today," Shoemaker said.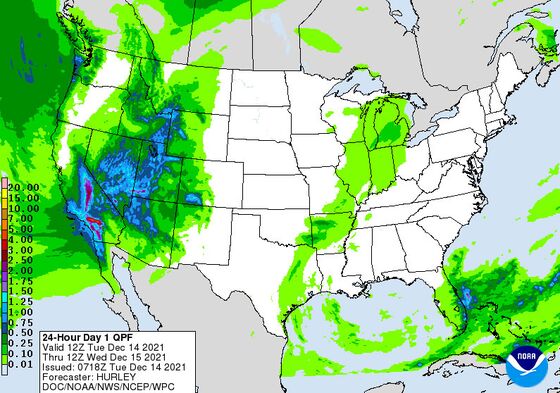 High winds and snow have knocked down power lines, leaving more than 54,000 customers without electricity mainly in the mountain counties east of Sacramento, according to PowerOutage.us, which tracks outages reported on utility websites. The storm, an atmospheric river, is also bring heavy rain across Southern California and heavy snow throughout Nevada, Idaho, and even into the Rocky Mountains.
Atmospheric rivers are powerful storms that come off the Pacific Ocean that can bring devastation as well as relief to drought-struck regions. Such a storm last month caused heavy flooding and landslides in the western Canadian province of British Columbia. In parched California, much of its water comes from the snow that falls during such events -- and this latest storm could offer some relief to a state gripped by drought.
"The main benefits is building that snow pack up over the Sierra."
It'll take time to assess the current storm's impact on the drought, Shoemaker said, but in the meantime another system is expected to sweep in off the Pacific and bring more heavy snow starting Wednesday.
"That is what we have been lacking," he said. "We're off to a good start."