Cable Stocks Tumble as Analysts See Weaker Subscriber Outlook
(Bloomberg) -- Shares of cable companies fell on Tuesday, extending a recent downtrend that has taken major names to multi-month lows as concerns over subscriber growth have prompted analysts to sour on the industry.
Tuesday's weakness came after Deutsche Bank downgraded both Altice USA Inc. and Charter Communications Inc. This is at least the third downgrade Charter has received over the past week, and the fourth for Altice in less than a month, ever since it cut its forecast for broadband subscribers, a move that came after a similar warning from Comcast Corp. in mid-September.
A "period of favorable conditions for the cable industry is now transitioning to a more competitive environment," wrote Deutsche Bank analyst Bryan Kraft. He sees the new environment as characterized by lower returns, pricing pressures, and higher marketing costs and capital expenditures.
Shares of Altice dropped as much as 4.2%. The stock is down more than 50% off a May peak, and it is trading at its lowest since March 2020. Charter fell as much as 1.7% to its lowest since June. 
Among other names in the sector, Comcast fell as much as 1.4% to its lowest level since February and Cable One Inc. dropped as much as 1.8% to its lowest since May. An index for cable and satellite companies fell 0.6% to its lowest since April, and is now down more than 15% below a peak hit in early September, almost erasing its gain for the year.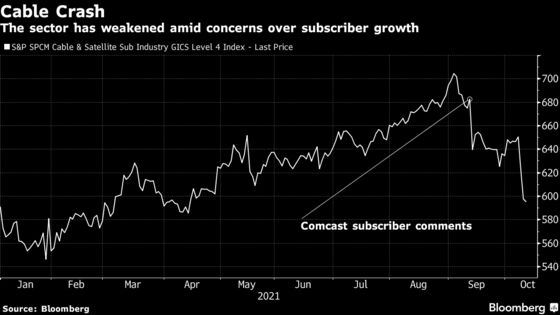 Deutsche Bank's comments echo a similar call from Raymond James, which on Monday downgraded both Charter and Comcast. Analyst Frank Louthan warned that telecom companies "are set to make a significant change to the communications landscape that is set to shift the balance of power that has favored the cable companies for the past 20 years." 
Last week, Wells Fargo took "a much more cautious stance" on the cable industry, downgrading both Charter and Cable One as it sees the industry "rolling over to a period of slowing growth and heightened competition." 
Amid this growing caution, Goldman Sachs on Tuesday affirmed a buy rating on Altice, writing that while there are risks in the broadband business, "expectations have been solidly reset and that there is a pathway to return to growth."
Comcast, Altice, and Charter are all due to report quarterly results before the end of the month, while Cable One's results are expected in early November.