Buoyed by Rising U.S. Yields, Dollar Faces Threats From Abroad
(Bloomberg) -- The U.S. dollar, which shot higher this week as strong economic data pushed Treasury yields to multiyear highs, will be put to the test in coming days by China and the euro zone, currency strategists caution.
The Bloomberg Dollar Spot Index rose as much as half a percentage point Wednesday as the yield on benchmark 10-year U.S. Treasury note climbed 12 basis points to the highest level since 2011. It held those gains Thursday. But its next move may depend on foreign bond markets, according to UBS Group AG.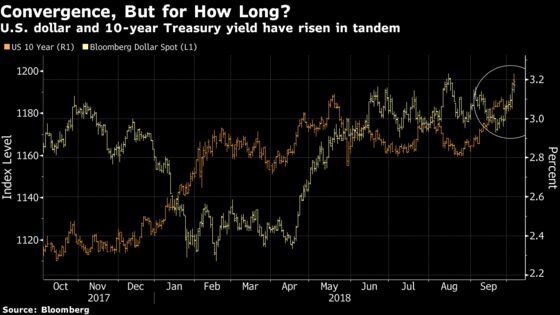 For the 10-year Treasury yield to extend its climb from 3.20 percent to 3.5 percent, German and Japanese government bond yields need to narrow their gaps with U.S. yields, which reached or approached multiyear wides Wednesday, UBS FX strategist Vassili Serebriakov said. That would undercut the dollar. A positive resolution to Italian budget negotiations or strong Chinese economic data could also weaken the greenback, Serebriakov said.
"The U.S. cycle is well priced in," Serebriakov said. "But there's a lot more uncertainty about the foreign cycles. We would argue that foreign yields are more important."
As of 1:30 p.m. New York time, the dollar had given up some of Wednesday's gains, dropping 0.2 percent against the euro and 0.7 percent against the yen, as Treasury yields stabilized.
A reckoning for the dollar could come as soon as Monday, when mainland Chinese markets reopen after this week's National Day holidays, according to Kit Juckes, global foreign-exchange strategist at Societe Generale SA.
"I think that puts some spice in," said Juckes. "Certainly I don't know what they're going to do, or how markets will react. But I think emerging markets will be livelier."