Bunge Takes Soybeans Loss After Wrong-Way Bet on Trade War
(Bloomberg) -- Bunge Ltd., one of the largest agricultural traders and processors, posted a surprise loss for the second quarter after it was wrong-footed by price moves in the soybean market due to the U.S. trade war with China and a drought in Latin America.
The loss will increase the pressure on Chief Executive Officer Soren Schroder to turn the company's performance around. Bunge has been the subject of takeover speculation for more than a year, with rivals Archer-Daniels-Midland Co. and the agriculture unit of Glencore Plc making approaches.
Schroder told analysts on a conference call on Wednesday that Bunge "went long" -- a bullish bet -- on Chicago soybean futures, speculating the trade war between the U.S. and China would be brief. Had that been the case, prices would likely have risen, as China would have gone back to buying American beans. But the dispute persisted and prices plunged instead, and China virtually stopped U.S. purchases.
Bunge said the soybean mark-to-market losses of about $125 million related to forward soy-crushing contracts will be reversed in the second half of the year. But in a sign that the company is trailing its own expectations, it lowered its full-year forecast for earnings before interest and taxes to as much as $1.31 billion, from as much as $1.39 billion previously. The shares dropped as much as 3.6 percent.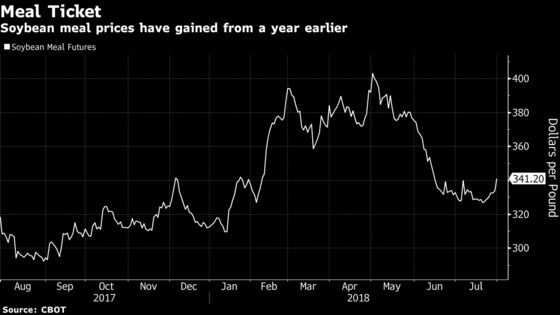 "While total company performance in the second quarter came in below our estimates, we expect a strong second half," Schroder said in a statement.
Other agricultural trading houses, notably ADM, have been able to navigate the same difficult soybean market without suffering similar problems.
Bunge, like other commodities traders, locks in the margin from crushing soybeans into soymeal, which is used to feed livestock, and soy oil through derivatives markets. The margins now are wider than when Bunge hedged, prompting the mark-to-market losses. If the company is able to process the beans and deliver the products, the losses would be erased.
Bunge's international sugar-trading and distribution unit, which it said it's in talks to sell, had a loss of $26 million in the quarter. The grains business took a $24 million foreign-exchange loss related to hedges, something that Bunge said should be reversed later in 2018.
The company had an overall net loss of 20 cents a share, compared with net income of 48 cents a year earlier. The average of analysts' estimates compiled by Bloomberg was for net income of $1. Earnings excluding one-time items were 10 cents a share, trailing the $1.04 average estimate. The shares fell 4 percent to $66.34 at 12:33 p.m. in New York.
Bunge held fast to its earlier full-year profit forecast for agribusiness, despite a rough first-half. It said that it expects the division to post earnings before interest and tax at the upper end of its previously given range of $800 million to $1 billion. For food and ingredients, Bunge said it expects Ebit to come in at the lower end of the $290 million to $310 million forecast in May.
Investors are likely to be curious about the "confidence around" the full year-outlook given the first-half performance, Ann Duignan, an analyst at JPMorgan in New York, wrote in a report Wednesday.
In sugar and bioenergy, Bunge said that it now expects to break even, compared to an earlier estimate of $40 million to $60 million. It said it it expects to lose $20 million in the trading and distribution segment of that business.
Bunge said that it has "lowered our outlook in grain origination as a result of uncertainty related to the evolving freight price situation in Brazil and expectations for lower volumes and margins in the U.S. due to reduced exports."