Farmers Will Hoard Beans to Ride Out Trade War, Bunge CEO Says
(Bloomberg) -- U.S. soybean growers who are starting to harvest what's predicted to be a bumper crop probably will look to weather the trade war with China by stashing away the oilseed, according to agribusiness giant Bunge Ltd.
"Anybody who can store will do it," Chief Executive Officer Soren Schroder said Thursday from a conference in New York. Bunge is the top oilseed processor.
Growers are facing an increased risk of a prolonged battle between the two largest economies, he said. China slapped tariffs on American beans in retaliation to Trump administration measures, and buyers in the Asian nation are turning to other sources of supply. Without a swift solution, global soybean trade flows may change permanently, with some U.S. producers squeezed out.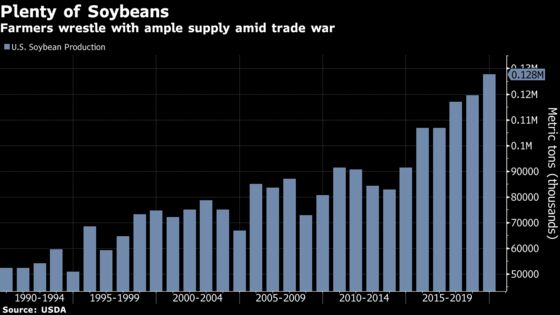 Attending the Wall Street Journal's Global Food Forum, Schroder said farmers may even turn to "ground piles" to store soybeans, prices of which are near the lowest in a decade. "I don't know if accumulating is a smart idea," he said. "You don't know how long" the trade war will go on.
Others attending the conference said stockpiling is already happening, with the industry racing to provide storage.
"Soybeans are piling up," said Patrick Gilligan, senior new business development director at trading house Marubeni America Corp.
Commodity Disruptions Help Bring Trading Back to Life at Cargill
Schroder said a vessel that departed the U.S. West Coast ended up in Spain in an example of how the U.S.-China spat is altering soybean trade flows.
In another possible example, U.S. soy could be shipped to Argentina and beans from the South American nation may go to China, thereby avoiding the 25 percent tariff on American product. Traditionally the world's top exporter of animal meal made from soybeans, Argentina is expected to quadruple overseas shipments of the raw oilseed next season, according to a Buenos Aires Grain Exchange economist.