Bund Yields Are on Their Way Back to 0%: Euro Rates Daily
(Bloomberg) -- The sell-off in European core government bonds means 0% for German bund yields is no longer looking so far away.
Yields increased 17 basis points in December to halve their negative level, after climbing in previous months from record lows, and another such move would take them near the zero mark. However, the reduction in political uncertainty due to the phase-one trade agreement between China and the U.S. and the prospect of an orderly Brexit may not be sufficient to drive yields into positive territory on a sustained basis.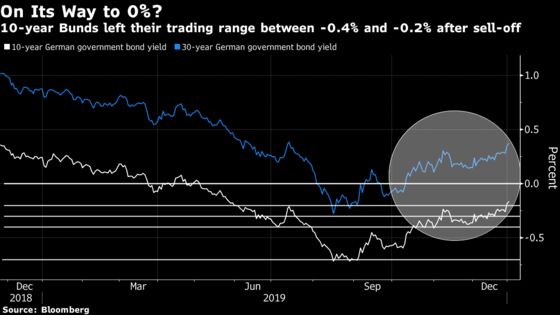 To achieve above-zero yields, sentiment on the global economic outlook and especially on the euro area needs to improve as a first step. Any gains in economic confidence in the euro area should also be reflected in hard data such as industrial production or new orders. In addition, the rise in inflation expectations must prove to be sustainable.
Moreover, it should not be underestimated that the monetary policy of the European Central Bank will remain expansionary. Purchases of government bonds as part of its reinvestment of maturing securities, as well as under the public sector purchase program, are also continuing for the time being. This should tend to keep yields of bunds and other euro-area government bonds low.
Euro Rates Daily is an excerpt from the German language report "Renten am Morgen." To read the current issue, please click Renten am Morgen: Rendite 10-jähriger Bunds auf dem Weg zur 0%?