Developing-Nation Stocks Run Into Earnings Hurdle
(Bloomberg) -- Ask any bull, and they'll probably tell you there's nothing fundamentally wrong with emerging-market stocks, only a few idiosyncratic troubles and a stubborn dollar that create short-term losses.
That belief is coming under strain. Corporate earnings in developing nations are slipping so badly that the gulf between estimates and actual performance is widening like it did during the 2008 financial crisis and just before a four-year bout of underperformance starting in 2011.
Disappointing profits at companies in the MSCI Emerging Markets Index put the gauge's slump last year as well as the recent stagnation in context: the $5.7 trillion sell-off since January 2018, which some money managers said was unwarranted, looks more justified and well-timed. And analysts' cuts to profit projections look more prescient than they did before.
The chart below plots companies' trailing 12-month earnings with average estimates made 12 months prior on the same vertical line. That enables us to see how far companies are meeting the estimates.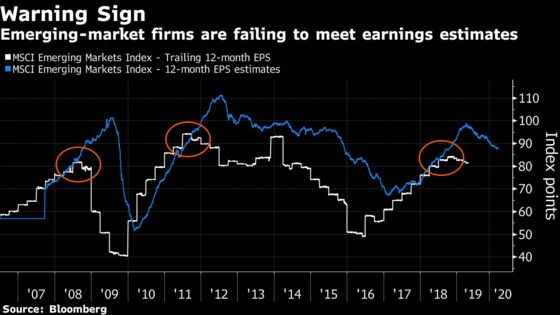 In the past 14 years, the index's earnings have diverged from forecasts only twice -- in 2008 and 2011. Both occasions were followed by analysts reducing their average profit projection by at least 40 percent and the gauge plunging into a bear market. The same deviation is happening now, with forecasts dropping 11 percent so far.
If history is any indication, the pain for emerging-market companies may just be starting.
The MSCI index's struggle to expand first-quarter gains also has a technical reason. The gauge has come across a double barrier at the 1,104 mark, which is acting as resistance. It's the combination of the peak that the index didn't break through between 2011 and 2016, as well as a 50 percent Fibonacci retracement level.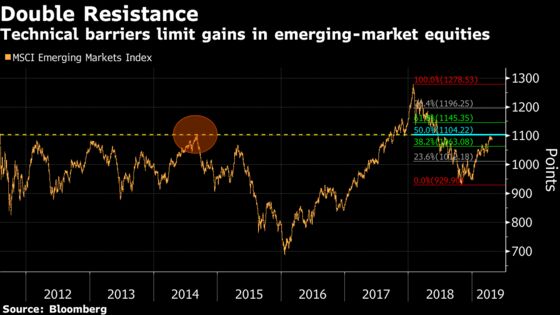 The index must close above 1,104 on several successive days to signal the resistance has been breached.
The valuation discount that global investors demand to buy emerging-market stocks rather than developed-nation equities hovers near the narrowest level in six years. That closes the window of opportunity investors have had since October 2018 to buy the shares relatively inexpensively.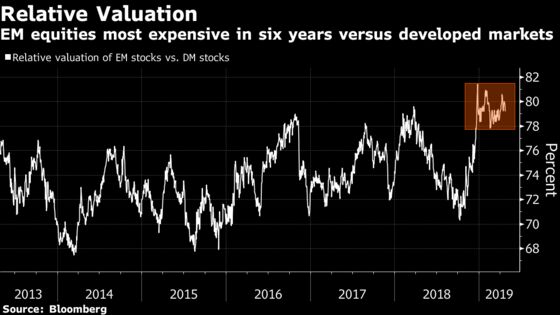 While worse-than-forecast earnings are the main reason for a bearish stance on stocks, technical resistance and vanishing value act as momentum brakes. However, there's one thing that supports a long-term positive outlook for emerging markets: economic growth.
The International Monetary Fund's recent cuts to growth forecasts for many countries and regions had a silver lining: the gap between gross domestic product expansion in emerging markets and developed economies is set to widen.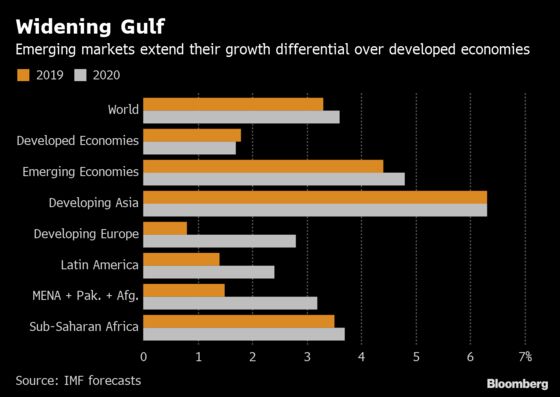 Every sub-region in the emerging world is expected to see accelerated growth in 2020, at a time when whispers of a U.S. recession (or at least a slowdown) around that time are being heard.
The MSCI equity gauge rose 0.4 percent to 1,082.54 as of 5:06 p.m. London time.