Budget Gives Rand Traders the Same Shakes as ANC Conference
(Bloomberg) -- The last time rand traders were this nervous, it was mere days before South Africa's ruling African National Congress elected Cyril Ramaphosa to replace Jacob Zuma as the party's head.
The rand's overnight implied volatility versus the dollar has surged to levels last seen in December 2017. The measure, based on options to buy or sell the currency, suggests investors are bracing for big price swings, depending on the outcome of Wednesday's budget.
A well-received budget could see the currency strengthen to about 13.75 per dollar from its current spot price of 14.1165, Nomura International Plc strategist Henrik Gullberg said in a note to clients. A negative budget could weaken the rand to as much as 16 per dollar, according to Cristian Maggio, head of emerging-market strategy at TD Securities.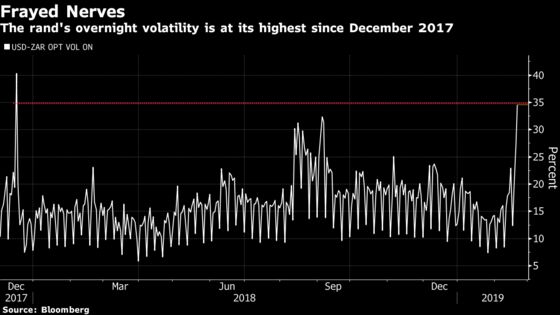 Finance Minister Tito Mboweni will present the budget at 2 p.m. in Cape Town. Investors want to see a deficit-neutral plan that provides financial relief for cash-strapped power utility Eskom Holdings SOC Ltd. while setting out longer-term steps to fix operational problems that led to rolling blackouts in recent weeks. That's a tall order -- especially with elections looming in May -- but anything less will increase the risk of a credit-rating downgrade and provide more reason to sell the rand.
The rand is already the laggard currency in February, down the most in a basket of emerging market currencies tracked by Bloomberg. It fell as much as 0.7 percent to 14.1446 per U.S. dollar before paring the loss to 0.4% by 11:40 a.m. Most of its peers were trading firmer against the greenback.
A credible plan would go some way in securing South Africa's rating, Maggio said. But one that doesn't meet with approval could result in Moody's Investors Service cutting the country's credit rating straight to junk.
A non-investment grade rating would see government bonds ejected from the World Government Bond Index and the rand would depreciate between 10 percent and 15 percent from current levels, according to Maggio.
"Given the Damocles sword of a possible downgrade by Moody's hanging over South Africa's neck, the budget will be watched very, very closely by the market today."