BT Fends Off Sky to Keep Champions League Soccer, at a Price
BT Group Plc paid more than expected to fend off pay-TV rival Sky and retain broadcast rights to European elite Champions League soccer.
The British phone company will pay 400 million pounds ($515 million) per season for the prestigious club tournament and two lower-tier competitions, it said in a statement. That's slightly above the record amount it spent on the previous three-year deal.
BT Chief Executive Officer Philip Jansen was under pressure not to overpay. While the Champions League has helped to draw viewers to its BT Sport subscription service, Jansen also needs to invest in BT's broadband and 5G mobile networks while keeping enough cash to pay dividends.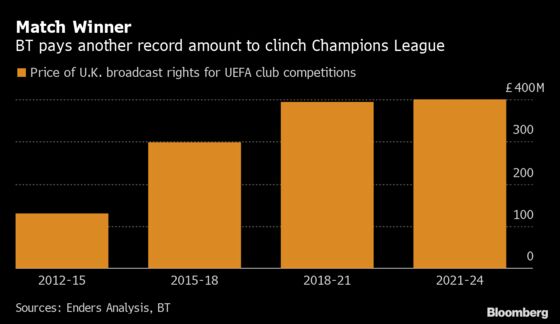 Until recently, analysts had been expecting BT to retain the rights at a significant discount as Sky had been playing down the importance of including the Champions League alongside its core English Premier League offering.
"It is disappointing from BT shareholders' point of view that they were not able to get a reduction, given the likely lack of serious price competition from Sky, ITV and anybody else," says James Barford of Enders Analysis.
BT's shares, which fell earlier on Friday after the opposition Labour Party said it would nationalize the carrier's broadband network, extended their decline to as much as 3.7%.
BT said the price it paid for the rights from 2021 represents a 17% reduction per game compared to last time around. However, the auction included a new third-tier Europa Conference league, which is unlikely to attract anything like the audiences enjoyed by the top-tier competition.
Sky's spending power has grown since it was bought by U.S. giant Comcast Corp. last year and the company re-emerged last week to challenge BT for the Champions League rights, encouraged by the record European success of English clubs last season.
BT secured an audience of 1.7 million for the semi-final between Liverpool and Barcelona, more than three times the number who watched the 2015 final on Sky.
Ampere Analysis media analyst Minal Modha said investors will soon recognize the importance of the rights to the company.
"To date, they have managed to convert nearly half of people in the U.K. who are willing to pay to watch the Champions League, and with this next set of rights, they have the opportunity to capture even more," said Modha.