Brussels Edition: Wild Swings
(Bloomberg) -- Welcome to the Brussels Edition, Bloomberg's daily briefing on what matters most in the heart of the European Union.
Those on the continent hoping visits to London will become cheaper from next week may be in for a disappointment. While officials in Brussels are waiting for the decision of the U.K. Parliament over Theresa May's Brexit deal on Tuesday, currency traders are betting the can will be kicked down the road. They expect any wild currency swings to be short-lived as the entire withdrawal process gets extended. Then again, markets have been wrong about politics before.
Week Ahead | On the same day as the "meaningful vote" on the Brexit deal in the House of Commons, Mario Draghi will present the European Central Bank's annual report to EU lawmakers in Strasbourg. The prospect of a chaotic Brexit, growing signs of economic malaise in the euro area and a surging nationalist wave will cast a shadow over the European Parliament, where the prime ministers of Spain and Romania are also due to speak on Tuesday and Wednesday.
Greek Crisis? | The fragile agreement struck between Athens and Skopje over the Macedonian dispute has triggered a crisis — or the appearance of one — in the Greek governing coalition. Prime Minister Alexis Tsipras is meeting his right-wing coalition partner Panos Kammenos today, with bets being against a government collapse. Most lawmakers may prefer to swallow their nationalist pride and keep their jobs rather than risk an election.
Tax Matters | It may be overlooked with all the Brexit noise, but the EU Commission is due to unveil its "communication" on gradually abolishing national vetoes on taxation policies on Tuesday. Judging by what we hear about the reaction of EU government envoys who discussed the matter with Commissioner Pierre Moscovici on Wednesday, the plans are unlikely to make it into actual legislation anytime soon. 
Tintin's Birthday | On a lighter note, a Belgian icon and timeless hero of many, Tintin, is celebrating his 90th birthday. Like other comic-book heroes, the international journalist was portrayed as an agent of good as he traveled the world, seeking the truth and holding those in power to account. The year-long celebration serves as a reminder of an era when reporters weren't depicted as the enemies of the people and the purveyors of fake news. 
Mega Merger | Alstom's CEO has raised the spectre of failure for its planned rail merger with Siemens because of  EU opposition, according to people familiar with the matter. Competition Commissioner Margrethe Vestager says she's merely applying rules that block harmful mega-mergers. Some EU officials are sympathetic to the companies' argument that big European deals are needed to counter China, pushing for her to brief them at a Jan. 15 commission meeting, other people said. 
Money Management | Money managers scored another point in their drive to prevent EU regulators from gaining more control over their operations after Brexit. Lawmakers in the European Parliament voted to water down a bill that would have given the European Securities and Markets Authority additional oversight of the industry's global operations.
Nike's Taxes | Nike is the latest U.S. giant to become embroiled in the EU's crackdown on tax deals that regulators say give a select group of big companies an unfair edge. Competition chief Vestager announced a probe into the sports equipment maker on Thursday, criticizing nations for allowing companies to set up complex structures that "unduly reduce their taxable profits."
Google Wins | Google shouldn't have to apply the so-called right to be forgotten globally, an adviser to the EU's top court said, giving the U.S. Internet giant a boost in its fight with a French privacy regulator over where to draw the line between privacy and freedom of speech. Google has only agreed to delete less than half of the links from people who asked it to remove outdated or irrelevant information about them.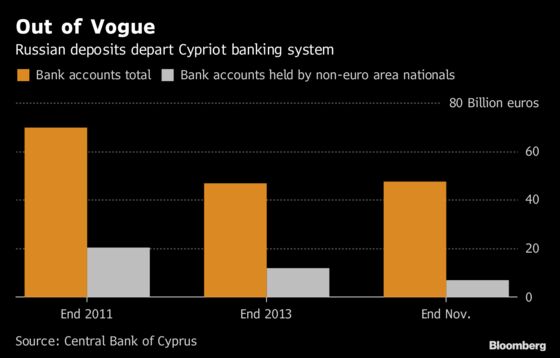 For Russian businesses, Cyprus just isn't what it used to be. New Cypriot rules to fight money laundering are compounding the effects of U.S. sanctions against Russia and its high-profile citizens, driving money away from the one-time haven, Paul Tugwell and Georgios Georgiou report. 
9:30 a.m. EU Commission President Jean-Claude Juncker holds a joint press conference with Romania's President Klaus Iohannis in Bucharest. Juncker also meets Prime Minister Viorica Dancila and holds a press conference at 11:50 a.m.
6 p.m. Juncker receives the "Freiheitspreis der Medien," awarded by the Ludwig Erhard Gipfel, and delivers a keynote speech in Tegernsee, Germany
ECB board member Yves Mersch and Governing Council members Ewald Nowotny of Austria and Jozef Makuch of Slovakia will speak at an economic conference to mark Slovakia's 10th anniversary of euro adoption