Brussels Edition: Who's in Worse Shape?
(Bloomberg) -- Welcome to the Brussels Edition, Bloomberg's daily briefing on what matters most in the heart of the European Union.
Italy and Greece will dominate the conversation in Brussels today as the European Commission publishes a set of reports detailing the bloc's economic challenges. On the one hand, Brussels will share some ideas about the Italian government's efforts to reform its economy and reduce its debt burden. On the other, Greece's foot-dragging on some key changes to its economy will probably be highlighted in a report card on its progress in meeting post-bailout commitments needed to unlock more debt relief. 
Laundry List | At a time of heightened awareness about the EU's weakness in combating money laundering, lawmakers will today finalize their findings and recommendations on how to tackle financial crime and tax evasion.
Carige Makeover | Banca Carige, the Italian lender placed under administration by the European Central Bank, will unveil a new business plan this morning. Administrators want to shore up its balance sheet by reducing bad loans in order to make the troubled lender based in Genoa more attractive to a possible partner.
Luring Eurocrats | More than a year after the showdown over where to move London-based EU agencies post-Brexit, another group of countries is vying to attract EU officials and their families. This time, government envoys in Brussels are discussing where to base the soon-to-be-established European Labour Authority. We're hearing Bulgaria, Latvia, Slovakia and Cyprus are interested — but a decision won't be made until June 13.
Brexit Blow | U.K. financial firms were dealt a blow last night when EU policy makers agreed to tighten the rules governing the City of London's access to the bloc after Brexit. Under the so-called "equivalence" rules, the European Commission will have a greater say over who will be given access to EU clients.
Risky Maneuver | Already weakened by months of Yellow-Vest protests, French President Emmanuel Macron is risking another confrontation with French workers after deciding to force through potentially unpopular changes to benefits for the unemployed without the backing of the country's unions.
Incoming Optimist | The ECB's incoming chief economist, Philip Lane, is confident current stimulus will be enough the guide the euro area through what he considers "limited" downward revisions to the outlook. Here's why his comments signal a slightly more optimistic stance to that of the man he's replacing.
ECB Victory | The EU's highest court overturned Latvia's suspension of central bank Governor Ilmars Rimsevics as part of a bribery probe that's shaken the Baltic nation. The ruling, which found that Latvia illegally prohibited the ECB Governing Council member from performing his role, marks a victory for the bloc's central bank.
Climate Deniers | Europe's consensus in favor of curbing greenhouse gas emissions is weakening amid rising support for right-wing populists. An analysis by Berlin-based policy researcher Adelphi found that 21 such political parties across Europe either overtly deny or cast doubt on scientific agreement that human activity is behind global warming.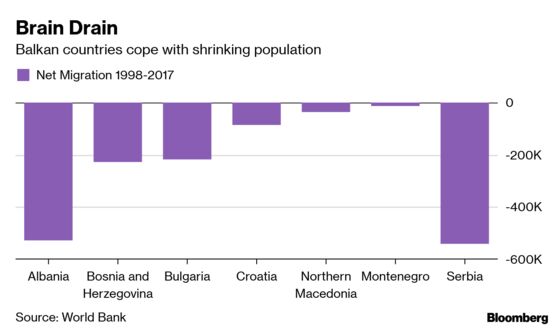 Relatively low wages, high unemployment and better-paid jobs beckoning just a short distance away in the EU have led to a mass exodus of workers from the Balkans. Shrinking populations are a major impediment to economic growth for the poorest countries in Europe. 
10 a.m. EPC event in Brussels on the "Internet of Things"
10:30 a.m. The European Parliament's special committee on financial crimes, tax evasion and tax avoidance, will approve its final findings and recommendations after a 12-month inquiry
11 a.m. The European Parliament's committee on civil liberties, justice and home affairs plans to vote on the three candidates to become the EU's first chief prosecutor.
European Commission to publish country reports on economic and social areas, as well as a report on Greece's progress with its post-bailout commitments