Brussels Edition: Welcome to Hell
(Bloomberg) -- Welcome to the Brussels Edition, Bloomberg's daily briefing on what matters most in the heart of the European Union.
Theresa May returns to hostile territory today. For the first time since her disappointing December EU Summit when she didn't get the changes she was hoping for to the Brexit deal, the U.K. prime minister will hold talks with Jean-Claude Juncker and Donald Tusk in Brussels. Both sides are playing down the chances of the meetings bearing much fruit. After yesterday, anything that doesn't descend into further references to places in hell will probably be deemed a success.

Downgrading Growth | Expect more doom and gloom today when the European Commission releases its latest economic forecast for the EU. Focus will likely be on how much the outlook for Italy's growth will be cut, especially after the economy slipped into recession at the end of 2018. Downward revisions are also expected for the entire euro area, following weakness in several large members, including Germany. 
Lavish Reception | Huawei hosts its lavish annual Chinese New Year party in Brussels this evening as it tries to contain the fallout from allegations that its products could be used to enable Chinese espionage. Two local executives may touch on the concerns that have sparked fierce scrutiny of its business in Europe, threatening to keep the company out of the region's 5G networks.
Deutsche's Promises | And since we're on the subject of parties, Deutsche Bank's CEO Christian Sewing appeared last night at the lender's reception in Brussels, pledging "discipline" and "controlled growth" — two very German promises and in line with the government's envisaged solution for the bank's woes. Birgit Jennen, Arne Delfs and Patrick Donahue have the details. 
Italian Truce | Italy's Deputy Premiers Luigi Di Maio and Matteo Salvini seem to fight over everything, but now, Di Maio may be set to throw his political rival a lifeline, helping him avoid a trial in a migrant case that threatens to bring the government to its knees. Di Maio's Five Star Movement is preparing to bow to pressure in an issue that goes before a Senate committee in Rome today.
World Bank | U.S. President Donald Trump will nominate senior Treasury Department official David Malpass as World Bank president. This may end up being another headache for the EU, as Malpass is a critic of the development institution and is being nominated by a president who rejects the principle of global consensus on which the lender has operated for decades.
No Mega-Merger | Siemens and Alstom suffered the final blow to their rail merger plans after EU antitrust regulators vetoed the tie-up, refusing to cave in to warnings about the looming threat of Chinese competition. The two would-be partners now look set to rekindle a decades-old rivalry. Or are there other avenues? Here's a look at their options.
Annoying Trump | The Trump administration escalated its dispute with Germany over the transfer of a terror suspect sought by the U.S. American officials berated their German counterparts in a private meeting, and Acting Attorney General Matt Whitaker issued an unusual rebuke of an ally for sending the man to Turkey. The controversy is the latest conflict between Trump and Chancellor Angela Merkel's government.
Fish & Chips | Believe it or not, the U.K. may be facing a problem even more vexing than Brexit. The future of one of Britain's favorite staples could be at risk as climate change threatens areas for growing potatoes, as well as affecting other fruit and vegetables, scientists from the University of Leeds warned. Time to say goodbye to fish and chips?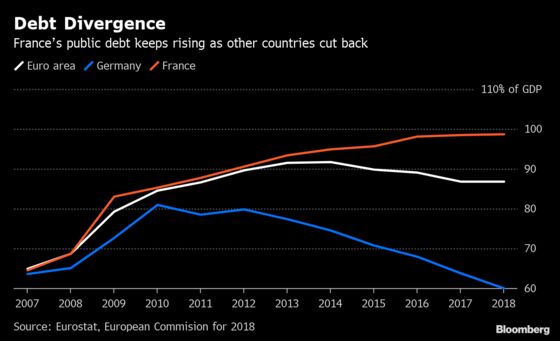 French President Emmanuel Macron's attempt to quell the Yellow Vest protests with tax cuts will contribute to a worrying debt increase that exposes the country to future crises, the national auditor said. While the government already has said the package will raise the 2019 budget deficit to 3.2 percent of economic output, the auditor said even that revised target is fragile. 
7:30 a.m. Informal meeting of EU justice and home affairs ministers in Romania continues
11 a.m. European Commission releases quarterly economic forecasts for the EU and the euro area
11 a.m. EU Commission President Jean-Claude Juncker meets British PM Theresa May in Brussels. May meets EU Council President Donald Tusk at 3 p.m.
12:30 p.m. ECB Executive Board member Yves Mersch speaks at the American European Community Association in Brussels
Huawei hosts annual Chinese New Year party as it tries to contain the fallout of espionage allegations that have sparked fierce scrutiny of its business in Europe
EU trade chief Cecilia Malmstrom meets with the expert group on EU trade agreements in Brussels
The Bank of England announces an interest-rate decision and updates its economic forecasts, followed by a press conference with Governor Mark Carney in London. No change in policy is expected, but Carney will surely be grilled about Brexit
German Chancellor Angela Merkel will join the meeting of Vysegrad member states Poland, Czech Republic, Hungary and Slovakia in Bratislava