Brussels Edition: Trade Woes
(Bloomberg) -- Welcome to the Brussels Edition, Bloomberg's daily briefing on what matters most in the heart of the European Union.
Where exactly does the trans-Atlantic trade truce stand? European Commission chief Jean-Claude Juncker may tell us when he speaks today in the EU country with the most at stake: Germany. Juncker shows up in Stuttgart — home of automaker Daimler — after the U.S. Commerce Department handed Donald Trump the results of a probe into whether foreign cars and auto parts pose a national-security threat and should be subject to tariffs. Trump has 90 days to decide on whether to act, with the EU vowing prompt retaliation if he does.
Still Thorny | The EU's competition and financial services chiefs have been summoned by the European Parliament to discuss state support for Italy's Banca Carige and Germany's NordLB. The assembly has been critical of the use of taxpayer money for troubled lenders, and the closed-door meeting shows that more than a decade after the start of the financial crisis, the topic remains  thorny.
Hot Potato | EU governments will be prodded today to give their views on the unprecedented rule-of-law cases against Poland and Hungary. Romania, holder of the bloc's rotating presidency, is putting the hot-potato issue — which theoretically could lead to a suspension of Polish and Hungarian voting rights — on the table of general-affairs ministers for the first time this year.
Diplomatic Flurry | Theresa May will dispatch ministers across Europe this week in a last-ditch diplomatic drive to persuade EU leaders to save her Brexit agreement. As the clock runs down, May faces a rebellion from Cabinet ministers who want to stop the U.K. from leaving without a deal. Meanwhile, the decision of seven anti-Brexit Labour MPs to quit the party may prompt leader Jeremy Corbyn to switch policy and back a "people's vote."
All Clear | One major Brexit headache is officially solved: EU derivatives traders will be able to settle trillions of dollars of trades in London's clearinghouses, even if the U.K. quits the bloc without a deal, the EU's securities watchdog confirmed yesterday in a rare moment of agreement as talks on Britain's exit from the bloc remained deadlocked.
Populist Gains | A populist revolt in Europe will fail to dislodge the European Parliament's two biggest political groups in this May's elections, even as it propels euroskeptic forces, according to projections. Still, a broader coalition of pro-EU political families will likely be needed as the combined share of seats of the two largest factions falls below 50 percent.
Bad Loans | Greece's government submitted a plan to the Commission to help the country's banks speed up their bad-loan disposals, in a bid to restore confidence in the battered sector. The latest proposal calls for an Italian-style model whereby debt is unloaded into special purpose vehicles, which then sell bonds to investors.
Growing Blacklist | Seeking to display a firm stance, the EU is set to sanction eight more people in connection with Russia's encroachment in Ukraine. The bloc's foreign ministers agreed in principle yesterday to expand the number of individuals subject to asset freezes and travel bans as a result of the conflict.
Truck Caps | The EU stepped up its fight against climate change, agreeing to impose caps on carbon dioxide from trucks for the first time in a challenge to manufacturers such as Daimler AG. Negotiators fixed a 30 percent CO2-reduction target for 2030 compared with 2019 levels.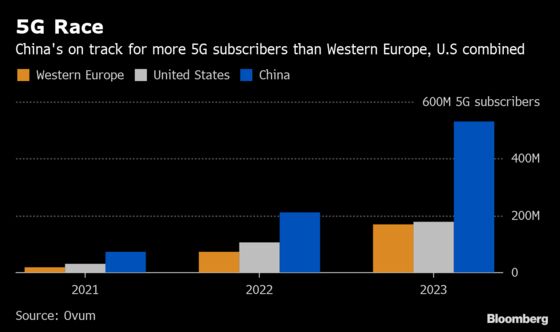 While Europe led the way with earlier mobile technologies, China, South Korea, Japan and — to a lesser extent — the U.S., are ahead on the next rollouts. Despite beating the drum for 5G, which promises gigabit-per-second download speeds 10 times faster than 4G and at a lower cost to carriers, European telecom executives are expected to be relatively slow to invest for fear the spending won't pay off for a long time.
8 a.m. Margrethe Vestager and Valdis Dombrovskis speak to European lawmakers about banking state aid at a closed-door meeting of the ECON committee's banking union working group
9 a.m. European Affairs Ministers meet in Brussels; to discuss rule of law procedures for Hungary and Poland
9 a.m. EU foreign policy chief Federica Mogherini meets Nancy Pelosi, Speaker of the U.S. House of Representatives

12:35 p.m. Mogherini delivers a speech at the NATO Parliamentary Assembly in Brussels
2:15 p.m. Mogherini speaks at the Belgian Royal Academy of Science

10 a.m. Pelosi briefs press in Brussels
5 p.m. EU Commission President Jean-Claude Juncker speaks on future of Europe in Stuttgart
5:30 p.m. EU Competition chief Vestager speaks to EU lawmakers investigating tax evasion
European Central Bank Vice President Luis de Guindos participates in panel discussion in Brussels on "Euro at 20 years: The road ahead" at the 2019 European Parliamentary Week
NATO Secretary General Jens Stoltenberg meets Andrus Ansip the European Commission Vice-President in charge of the EU Digital Single Market
EU trade chief Cecilia Malmstrom participates in trade event in South Africa
Climate Change Conference in Brussels with Belgian PM Charles Michel and Prince Albert of Monaco