Brussels Edition:  Trade Hopes
(Bloomberg) -- Welcome to the Brussels Edition, Bloomberg's daily briefing on what matters most in the heart of the European Union.
EU trade chief Cecilia Malmstrom meets U.S. counterpart Robert Lighthizer in Washington today to advance work on a transatlantic deal. Expect the exchange to address the scope of any accord to cut industrial tariffs —  as well as the less onerous goal of fostering deeper EU-U.S. regulatory cooperation. Meanwhile, in seeking to ward off U.S. duties on European cars, the EU keeps touting another element of last July's political deal: increased imports of American soybeans. 
Brexit Debates | Theresa May's Cabinet is due to meet this morning, and is said to be weighing whether to accept a plan drafted by pro-EU politicians who want to make it harder to leave the bloc without a divorce agreement. That the British premier's team is even thinking of accepting the proposed change to her key budget legislation, shows how weak her position is as she battles to steer Britain out of the EU.
Italian Tussle | Italy's populist government is wrestling with its first bank crisis. Last night, the government flagged its readiness to help cash-strapped lender Banca Carige SpA, approving state guarantees on any future bond issues and signaling its support for a possible precautionary recapitalization. The special administrators of Banca Carige will meet labor unions in Genoa today.
Equivalence Tweaks | Negotiations in the coming months between the European Parliament and member states will determine which activities London-based financial firms will be allowed to conduct in the EU after Brexit. Yesterday, the national government envoys followed parliament in settling on tighter MiFID II equivalence rules — after a strong push by France — and now the two EU versions have to be aligned. While the matter sounds technical, investment banks in the U.K. will be paying close attention.
Train Strains | Tension is mounting in the final stages of the EU's review of the Siemens/Alstom train-business merger after French Finance Minister Bruno Le Maire said it would be a "political mistake" for EU Competition Commissioner Margrethe Vestager to block the deal.  So far, the signs aren't good ahead of the Feb. 18 deadline, but crushing a grand French-German alliance may require some careful footwork from Vestager. In the meantime, the two companies are said to be pushing ahead with the sale of train-equipment assets in a bid to salvage their deal.
Polish Pay Spat | Already entangled in a bribery probe, Poland's central banker is now facing more uncomfortable questions, following media reports that he pays an assistant 13 times the average wage. Adam Glapinski, a close friend of ruling party chief Jaroslaw Kaczynski, has blamed political enemies for ensaring him in a corruption scandal and suggested there were plans for a "financial coup d'etat" to push Poland to join the euro area against its wishes. 
Latvian Stalemate | Latvia's president nominated a new candidate for prime minister, a third stab at forming a government since inconclusive elections three months ago. If the U.S.-born Krisjanis Karins is successful, he'll face challenges from repairing the reputation of the nation's scandal-hit financial sector to Brexit and worries about regional security. 
Language Addiction | Brussels is one of the most multilingual cities in the world, at the heart of a most multilingual continent. This addictive language-learning app may help you learn enough from the dozens of languages spoken in the city to get by. Unfortunately, the app doesn't offer EU-speak lessons – you 'll have to rely on us for those. 
Travel Destinations | We know the only way to fend off post-holiday blues is to start planning your next escape. So here's our ultimate travel guide of 21 destinations that will be especially hot this year—and the data you need to plan your trip. Just make sure to pick the right airline to get there.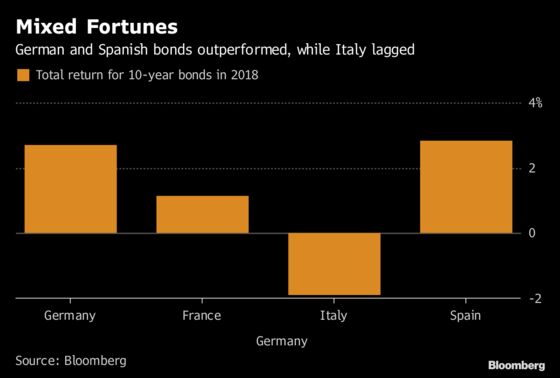 For the European bond investors who survived a bruising 2018, there may be bad news in the year ahead. Higher government spending and political uncertainty threaten rising debt yields in Italy and France, which could spill over elsewhere. Of course, the EU and the euro area have seen their fair share of bad days, and they're still around. 
8:30 a.m. The bloc's European affairs ministers meet in Brussels to discuss Romania's EU presidency priorities, the bloc's next multi-annual budget, as well as a coordinated response to the challenge of disinformation

10 a.m. EU Commission Vice President Valdis Dombrovskis speaks at a conference in Riga to mark the fifth anniversary of Latvia's euro membership

11 a.m. Press briefing by EU Commissioner Karmenu Vella and Thai Deputy Prime Minister Chatchai Sarikulya on the fight against illegal, unreported and unregulated fishing