Brussels Edition: The Real Weak Link
(Bloomberg) -- Welcome to the Brussels Edition, Bloomberg's daily briefing on what matters most in the heart of the European Union.
All's not well with the euro-area economy. The ECB will today publish the account of its January meeting, when its president, Mario Draghi, upped his warnings about risks to growth. The central bank's policy makers are setting the scene for a possible response at their March meeting. A new round of long-term loans for banks will be up for discussion, as well as possible tweaks to forward guidance on interest rates. Manufacturing figures for the region will also be published today, offering clues as to whether things are getting worse.
Getting Closer? | Following Prime Minister Theresa May's talks in Brussels last night, Brexit Secretary Steve Barclay and Attorney General Geoffrey Cox drop in today to present a proposal to try to make the divorce deal more acceptable to the House of Commons. Officials on both sides say some kind of agreement is getting nearer but doubts remain over whether it'll get enough support in the U.K. Parliament.
Macron Probe | Pressure on Emmanuel Macron's top three aides is intensifying after a French Senate committee recommended a probe, saying the officials may have misled lawmakers while testifying under oath in a scandal about the president's rogue bodyguard. The presidential palace said it wouldn't interfere with the investigations, while Macron's office promised to outline "inaccuracies" in the Senate's report in coming days.
Russian Warning | Is a new arms race on the horizon? President Vladimir Putin signaled Russia will aim new weapons at the U.S. if it stations missiles in Europe after quitting a landmark Cold-War-era treaty. He warned that any new weapons Russia deploys will match the short flight times of U.S. missiles stationed in Europe.
Italian Effect | The European and global economic environment has become more threatening for France in recent months, with the recession in Italy a particularly serious concern, French Finance Minister Bruno Le Maire said in an interview with Bloomberg.
Better Times | Donald Trump and the EU are still far from a deal to avert threatened tariffs on European cars, Austrian Chancellor Sebastian Kurz said after what he described as contentious exchanges during yesterday's meeting with the U.S. president. The two argued over trade and energy policy, areas in which "our relationship has seen better times," Kurz said.
Now Sweden | Swedbank, the biggest bank operating in the Baltics, has been drawn into the region's deepening money-laundering scandal after Swedish media alleged it handled more than $4.3 billion in dirty money. The development comes as a $230 billion scandal engulfing Danske Bank continues to spread in the region.
Pay Rent | A London judge gave landlords some good news in a difficult environment, ruling that the European Medicines Agency can't use Brexit as an excuse to break its 500 million-pound lease in Canary Wharf as it relocates to Amsterdam. The case was one of the early ones to grapple with the commercial ramifications of Brexit.
Going Strong | Nicolas Maduro is looking stronger as he clings on to power in Venezuela, and that's a scenario that the U.S. didn't anticipate, Spanish Foreign Minister Josep Borrell said in an interview. His comments came as the EU was due to send a technical mission to Caracas while earlier this week Trump hinted he may be ready to use military options.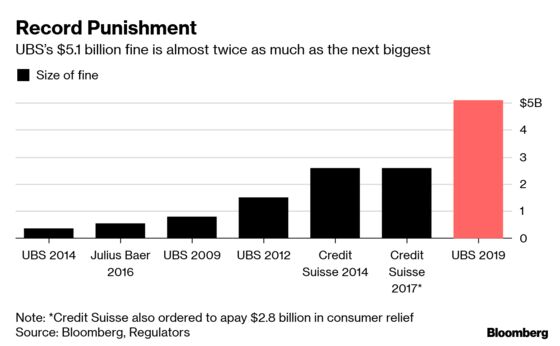 UBS Group AG was ordered to pay more than 4.5 billion euros by a Paris court that found the bank guilty of helping wealthy French clients stash funds in undeclared Swiss accounts. In the past 10 years, regulators have hit Switzerland's biggest banks with billions of dollars in fines.
EU Commission President Juncker addresses the plenary of the European Economic and Social Committee
Juncker hosts Krisjanis Karins, prime minister of Latvia
European executives at Google, Oracle, Microsoft and other companies speak alongside senior EU officials, including Digital Economy Commissioner Gabriel and Secretary General Selmayr, at an event hosted by the Digital Europe trade association
Informal meeting of EU trade ministers in Romania
EU, British antitrust officials, lawyers and economists speak at the W@ conference
Competition Commissioner Vestager meets Austrian National Bank Governor Nowotny
EU Commissioners Moscovici and Dombrovskis, SRB chair Koenig, ESMA chair Maijoor, UniCredit CEO Mustier and others speak at Politico finance summit in Paris
ECB publishes 2018 financial statement, account of Jan. 23-24 meeting
ECB Chief Economist Praet speaks at the International Conference on Real Estate Statistics organized by Eurostat in Luxembourg. Praet also participates in panel discussion "Is the ECB finally returning to standard policies?" at Centre for European Policy Studies (CEPS) Ideas Lab in Brussels
Euro-area flash PMIs