Brussels Edition: The Next Test
(Bloomberg) -- Welcome to the Brussels Edition, Bloomberg's daily briefing on what matters most in the heart of the European Union.
We finally have the text on a Brexit deal, but will it pass the next set of tests? U.K. Prime Minister Theresa May has to win the support of her divided cabinet today after ministers were invited one by one into Downing Street to pore over the hundreds of pages last night. Representatives of EU governments will also get briefed on the deal, which includes the withdrawal agreement and an outline of what the future relationship should be. If the text is still intact by the end of the day, get ready for a Brexit summit in Brussels around Nov. 25 and a knife-edge U.K. Parliament vote. Here's a guide to the endgame.
Italian Defiance | Italy gave a defiant response to EU demands to bring its budget in line. Rome's firebrands said they are sticking to their deficit and growth targets, despite international skepticism. The EU Commission is poised to respond by next week. An escalation that could lead to financial penalties appears all but guaranteed.
Iran Debate | EU foreign policy chief Federica Mogherini debates Iran sanctions at the European Parliament tonight, with little progress on salvaging the nuclear deal. A key issue is how to reassure banks interacting with the so-called Special Purpose Vehicle that they will be shielded from the risk of exclusion from U.S. markets. Leaders can't even decide where to set up the entity that should ensure that business keeps flowing to the Gulf nation.
Cleaner Trucks | The European Parliament will vote today on the EU's first caps on carbon dioxide from trucks, with the key question being whether the assembly tightens a proposal in May by the bloc's regulators. The parliament's environment committee recommends an average 35 percent CO2 cut for new trucks by 2030 compared with 2019, along with an intermediate reduction target of 20 percent by 2025.
Growth Numbers | Eurostat releases its second estimate for third-quarter euro-area GDP today, but Germany's numbers are likely to grab more attention. Data will probably show that the German economy hit a speed bump, resulting in the first contraction in more than three years. But a forecasted 0.1 percent decline in GDP may just be a temporary blip due to new regulations that hit car production. 
Out of Love | The bromance between President Donald Trump and French President Emmanuel Macron is truly dead. After a fractious visit to Paris over the weekend, Trump went on a tweet storm on everything from European defense to French wine. Strengthening her Macron embrace in France, German Chancellor Angela Merkel threw her support behind the establishment of a joint European military force.
Greek Plan | Greece's central bank is working on a plan to help banks cut their bad debts in half, the latest effort to restore trust in the country's financial system. Under the proposal, Greek lenders would transfer about half of their deferred tax claims to a special purpose vehicle, which will then sell bonds and use the proceeds to buy some 42 billion euros ($47 billion) of bad loans from the lenders. Still, any use of public guarantees is subject to approval by European Commission competition authorities.
ECB Support | The European Central Bank will support the euro-area economy even after the end of net asset purchases, Chief Economist Peter Praet said as he acknowledged the recent slowdown in growth. The outlook for the euro-area economy has grown gloomy less than a month until the next ECB meeting on Dec. 13, where policy makers are expected to mark a switch from their crisis-fighting mode by endorsing the end of net asset purchases.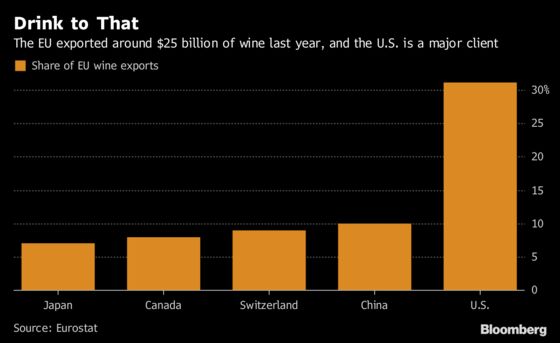 French winemakers are the latest European industry to suffer threats from President Trump. Shortly after Bloomberg published a chart showing that the U.S. is the biggest importer of EU wine, Trump tweeted that French wine is excellent, but so is American wine, and blamed the trade imbalance on the bloc's protectionist policies.
11 a.m. Eurostat to release flash estimate for euro area 3Q GDP, 3Q employment, and September industrial production
11:30 a.m. South African President Cyril Ramaphosa to address European Parliament
10:30 p.m. EU foreign policy chief Federica Mogherini debates the impact of U.S sanctions on Iran for European companies with MEPs at the European Parliament
EU top court rules on a suit by the European Commission seeking financial penalties from Greece on a case concerning illegal state aid for Hellenic Shipyards
EU lawmakers in Strasbourg will lay down their funding priorities for the EU's post-2020, long-term budget
EU trade chief Cecilia Malmstrom meets her U.S. counterpart Robert Lighthizer in Washington D.C.
MEPs in Strasbourg vote on reductions in CO2 emissions for lorries and buses to cut greenhouse-gas emissions
EU Parliament votes on law capping intra-EU phone charges at 19 cents per minute for calls and 6 cents for text messages beginning May 15. The law also calls for a faster rollout of 5G networks and creation of an SMS alert system for emergencies in all member states