Brussels Edition: The Irish Candidate
(Bloomberg) -- Welcome to the Brussels Edition, Bloomberg's daily briefing on what matters most in the heart of the European Union.
Central Bank of Ireland Governor Philip Lane is set to take another step toward becoming the next ECB chief economist if the currency bloc's finance ministers don't present other candidates before today's deadline. It's one of the biggest prizes in this year's contest for top EU jobs. Come June, the 49-year-old economist with a doctorate from Harvard will be in charge of monitoring the 19-nation economy and recommending monetary policy responses, effectively becoming the eyes and ears of the ECB president.
Back to Brussels | The British parliament voted to send Theresa May back to Brussels again to try and improve the Irish border backstop arrangement that many Tories hate. The vote was the EU's worst nightmare. Within minutes, EU Council President Donald Tusk said the agreement "isn't up for renegotiation,"  though he left the door open to changes to the non-binding declaration on future relations — provided the U.K. changes its red lines.
Nuclear Treaty | In news potentially more disturbing than Brexit, U.S. President Donald Trump is poised to pull the plug on a landmark nuclear treaty on Saturday. The collapse of the accord will remove any barrier to the redeployment  of intermediate-range nuclear armed missiles along EU's borders.
Standing Firm | EU antitrust chief Margrethe Vestager speaks at the European Parliament tonight, the day before national competition authorities are due to vote on a looming veto for the Siemens-Alstom rail deal. Vestager, addressing lawmakers about their annual report on competition policy, is likely to repeat what she's been saying for weeks — that it's her job to make sure European consumers don't suffer from mega-mergers that could raise prices.
Venezuela Talks | EU foreign policy chief Federica Mogherini is expecting responses from international partners today to her call to establish a so-called International Contact Group, which will coordinate efforts to resolve the crisis in Venezuela. The bloc is trying to assume a leading role in this, even as member states have trouble agreeing among themselves about what they should do next.
Facebook Warned | The EU warned the world's biggest tech and advertising companies that they need to intensify efforts to combat disinformation on their platforms ahead of European Parliament elections, or face regulation. Officials worry that Russian-backed campaigns — mostly through social media platforms — could boost support for political parties sympathetic to Moscow in the vote at the end of May.
Coalition Squabble | Matteo Salvini is under pressure to force an early Italian election from lieutenants frustrated by dealing with an unruly coalition partner. Several senior members of Salvini's League are urging the deputy premier to capitalize on a growing lead in opinion polls to ditch the anti-establishment Five Star Movement, we have learned.
Huawei Latest | Risks of data theft by 5G gear suppliers are "real" and France will tackle them, Finance Minister Bruno Le Maire said Tuesday, without naming Huawei. Le Maire presented the government's proposal to toughen access for equipment makers a day after the U.S. handed down indictments against the Chinese telecoms giant.
Greek Bonds | After almost a year in the wilderness, Greece rode the wave of benign market conditions to sell 5-year bonds at a hefty 3.6 percent yield. It's still the only country in the euro area for which a bond sale makes big news.
Rioja Supplies | Spanish vineyards are making sure British tipplers are well stocked with Rioja by shipping as much wine as they can ahead of a potential hard Brexit. Many Spanish vintners are planning to increase their stock in the U.K., a trend that could drive up transportation and warehousing costs, according to the wine federation's circular.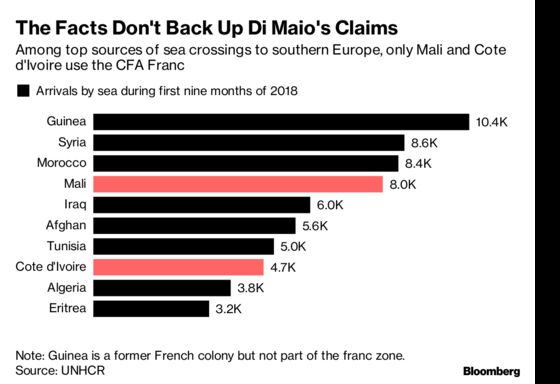 Italy's deputy prime minister Luigi Di Maio sparked a diplomatic row when he said that the CFA Franc used by many African countries was a form of ongoing colonialism that depressed economic growth and encouraged citizens to try to cross the Mediterranean. French officials might have pointed out that while citizens of former French colonies do figure prominently among those arriving on Europe's southern shores, very few of them actually come from countries sharing the CFA Franc.
9:30 a.m. EU top court rules on tobacco regulations in a challenge by Planta Tabak
4 p.m. EU lawmakers assess latest Brexit developments with EU Commission President Juncker

EU ambassadors in Brussels meet to discuss Brexit

5:30 p.m. Informal Meeting of EU Defense Ministers in Bucharest
Deadline for submission of candidates to succeed Peter Praet on the Executive Board of the ECB
EU trade chief Malmstrom meets EU government envoys in Brussels, speaks at "Belgian Diplomatic Days" event