Brussels Edition: Take It or Leave It
(Bloomberg) -- Welcome to the Brussels Edition, Bloomberg's daily briefing on what matters most in the heart of the European Union.
After another full night of drama — this time in Strasbourg — a Brexit compromise has once again emerged. Like all previous fudges, the deal is unlikely to satisfy all the demands of partisans in Theresa May's government seeking a clean break from the European Union and a shelving of the much-hated clauses to keep the Irish border open. But with just days to go, Jean-Claude Juncker's "take it or leave it" ultimatum this time around looks as real as it gets. We'll find out this evening, when U.K. lawmakers meet to vote on the latest agreement.
List Politics | Whether it's dirty-money hotspots or tax havens, the EU has been struggling to agree on who the bad guys are. The bloc's finance ministers are supposed to sign off today on an updated blacklist of uncooperative tax jurisdictions.
Greek Assessment | After Greece's European creditors decided to delay a one-billion-euro cash disbursement for Athens yesterday, it's now the International Monetary Fund's turn. Watch out for what the IMF has to say today in its first post-bailout report about the country's battered banks, huge debt load and its repayment capacity over the medium term.
Chinese Challenge | The European Commission today will assess the EU's relations with China, while the bloc's parliament votes on a resolution over security threats posed by Chinese technology. The parallel initiatives in Strasbourg reflect a juggling act: Efforts to enlist China in the fight to uphold the global commercial order and concerns about Chinese geopolitical ambitions.
Supervision Deal | Negotiators meeting in Strasbourg tonight will try to eke out a deal on the wide-ranging reform of EU financial supervisors, according to Sven Giegold, one of the lawmakers working on the file. So far there's only an agreement on a quick response to recent money-laundering scandals, so it could be a long night.
Estonian Populists | The country's ruling party unexpectedly opened the door for the anti-immigrant EKRE party to join coalition talks, compounding the EU's struggle to address gains made by euroskeptic nationalists across the trading bloc.
New Powers | Denmark plans to give its financial watchdog the power to impose fines directly to help speed up proceedings when dealing with money-laundering allegations. The decision is the latest step pushed by Business Minister Rasmus Jarlov as he responds to a $230 billion dirty money scandal that has engulfed Danske Bank and hit the nation's reputation.
Finance Tax | Sweden's government is considering a financial industry tax that targets banks, Finance Minister Magdalena Andersson tells Bloomberg. The proposal — part of a broader tax reform — is likely to make its way through parliament amid public outrage over allegations Swedish lenders were involved in a widening money-laundering scandal.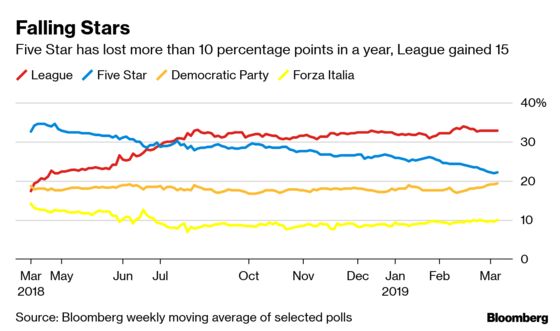 From the corridors of the Rome parliament to Milan trading floors, the war of words between rivals-turned-partners Matteo Salvini and Luigi Di Maio has ignited speculation that Italy's populist experiment could blow up, with an early election this year. Here's the talk and strategy options in the key players' war rooms.
9 a.m. EU finance ministers meet in Brussels to discuss a proposed tech tax, updated blacklist of tax havens 
10 a.m. EU Parliament debate with Slovak Prime Minister Peter Pellegrini and European Commission President Jean-Claude Juncker on the future of Europe
11 a.m. Eurostat releases data about births and fertility in the EU 
U.K. House of Commons votes on Brexit deal
EU Commission releases communique on EU/China relations 
EU Parliament adopts resolution about "security threats connected with the rising Chinese technological presence in the EU and possible action on the EU level to reduce them" 
EU General Court rules in case brought by former Greek Finance Minister Yanis Varoufakis and a German politician against the ECB to get access to internal documents 
EU foreign policy chief Federica Mogherini in New York to brief the United Nations Security Council
German Chancellor Merkel hosts Belgian Prime Minister Charles Michel
IMF publishes first post-bailout review on Greece