Brussels Edition: Take It or Leave It
(Bloomberg) -- Welcome to the Brussels Edition, Bloomberg's daily briefing on what matters most in the heart of the European Union.
It took 17 months to negotiate and 38 minutes to rubber stamp. Now U.K. Prime Minister Theresa May needs 320 lawmakers to get the Brexit deal through parliament. European Union leaders threw their weight behind her campaign to overcome opposition to her concessions, warning  – in concert – that this is the best and only deal available for an orderly withdrawal. Enjoy the brief respite; the U.K. Parliament vote is the first of the many battles that lie ahead.
What's Happening

Crimea Tensions |  Ukraine's parliament will hold an emergency session today in Kiev after Russia fired on Ukrainian warships and injured some of crew members. The move yesterday marks a dramatic renewal of tensions between the ex-Soviet neighbors near the Crimean peninsula that Russian President Vladimir Putin annexed four years ago.

WTO Decision | U.K. businesses stand to lose access to a $1.7 trillion public procurement market if signatories to a World Trade Organization accord this week block Britain's application for membership, which will lapse after it leaves the EU in March. Tomorrow, the U.K. will seek admission to the 46-nation Government Procurement Agreement in Geneva. Failure to rejoin could prevent U.K. companies from bidding on government contracts in member nations.
Draghi Grilled | Mario Draghi's grilling by EU lawmakers today is the highlight of a critical few days for the European Central Bank as it considers whether more stimulus is needed to overcome the euro-area slowdown. Less than three weeks before their final meeting of the year, ECB officials are working on forecasts that will help determine whether their 2.6 trillion-euro bond-buying program should be capped as planned. 
Tech Tussle | Proponents of a tax on the European revenue of tech giants are preparing a last-ditch push for a deal this week. The levy has divided EU governments and threatens to fragment the bloc's single market. EU envoys in Brussels will discuss the latest compromise proposal on Wednesday. Austria is seeking a political agreement at a meeting of finance ministers next week that would hit the likes of Facebook and Google. 
Swiss Votes | Expect some movement in long-stalled Swiss-EU talks after the Alpine nation rejected a plan that could have worsened relations with Brussels by forcing the government in Bern to renegotiate international treaties. The result of yesterday's plebiscite may help advance talks on consolidating the patchwork of deals governing Swiss-EU relations by year's end. But the really big losers of Sunday's Swiss vote are cows and goats. Here's why.

Yellow Jackets | Emmanuel Macron swept aside France's traditional parties to win the presidency. He tamed unions as he reformed the labor market and income tax, all without much mass protest. Now though, his presidency is being shaken by the so-called yellow jackets, a grassroots movement with no real leadership. And as if he didn't have enough headaches already, his best frenemy Donald Trump weighed in. 
Conte's Pledge | Prime Minister Giuseppe Conte pledged to keep "revolutionizing" Italy after a working dinner with European Commission President Jean-Claude Juncker on Saturday failed to break a standoff over the populist government's push to implement expensive election promises.  If the treatment of the U.K. can offer any lessons about EU's negotiating strategy, it's not good news for Italian firebrands. 
Holiday Tips | Holiday breaks are near, and we have a present for you: a podcast on how to beat jet lag, lines, theft, hangovers and other misfortunes in your travels. Check out our A to Z of tips from celebrities, industry professionals and million milers on how to ease your trips.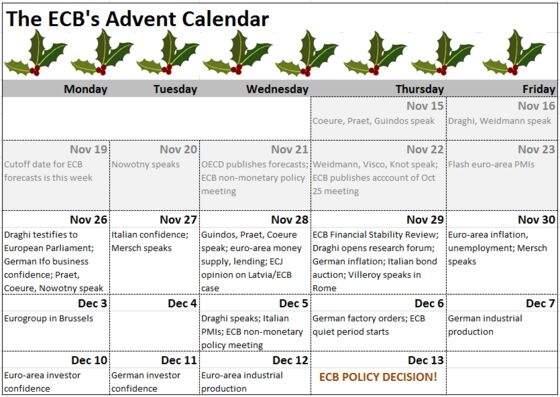 With less than three weeks to go before the final ECB meeting of the year, investors are on the lookout for any sign that bond purchases will be extended or alternative measures such as more long-term loans to banks are on the agenda. Here are the events to watch in the days until the Dec. 13 decision.
9:30 EU General Court rules on the admissibility of a challenge by a group of Brits saying the EU's decision in May last year to start Brexit negotiations is invalid, partly because expatriate Brits living in other EU nations for 15 or more years were denied a say in the 2016 Brexit referendum
2:15 p.m. ESM Managing Director Klaus Regling to speak at ZinsFORUM in Frankfurt
3:00 p.m. ECB President Mario Draghi hearing before European Parliament committee
6:30 p.m. IBM CEO Ginni Rometty, Ahold Delhaize CEO Frans Muller and EU Commission Vice President Andrus Ansip hold a discussion on trust and responsibility in the digital economy 
7:00 p.m. ECON Committee holds hearing on Germany's cum ex tax scandal
EU Commission Vice President Frans Timmermans meets George Soros in Brussels
EU Commission Vice President Valdis Dombrovskis gives speech in Brussels to present Eurosif 2018 SRI study