Brussels Edition: Restarting the Engine
(Bloomberg) -- Welcome to the Brussels Edition, Bloomberg's daily briefing on what matters most in the heart of the European Union.
After failing to grow for two quarters, Germany probably started expanding again in the first three months of 2019 if economists are right. Europe's biggest economy is due to release output figures today and forecasts suggest a reading of 0.4% in the first quarter. Any evidence that Germany is indeed turning the corner would be good news for policy makers, who were taken aback by the slowdown that forced them to not only pare down their forecasts, but reactivate the European Central Bank's stimulus stance.
Televised Debate | Tune in tonight as the key candidates vying to lead the European Commission debate one another on TV. You'll hear from Manfred Weber, Frans Timmermans and Margrethe Vestager. Hanging over the event will be one question that none of the participants can answer: will EU leaders end up making a surprise pick for commission chief in a backroom deal? Their choice will largely depend on politics, gender and passport, and speculation on possible dark horses is rife. 
More Talks | U.K. chief Brexit negotiator Oliver Robbins meets Commission officials in Brussels today, possibly to discuss changes to the part of the Brexit deal that the EU has said can be redrafted: the political declaration on future ties. Meanwhile, Theresa May promised to bring her exit deal back to Parliament at the start of June, hoping that a potential shock in this month's European elections will help sway enough lawmakers to get this done and dusted.
Woman for President | The odds of the ECB getting its first female president one day could improve if governments looked a little harder at the talent available. While a shortage of female economists and top bankers is often cited as a reason, it doesn't take long to scour the euro zone for women who might have what it takes. Here's a selective list of 10.
Greek Spending | The euro area isn't pleased with Greece's plan to lower its primary surplus target, something it announced earlier this month as it pledged to offer handouts to entice voters ahead of European elections. The bloc's finance ministers may discuss the move when they convene tomorrow. While the country's creditors haven't reacted, the announcement may complicate its request to repay some of its pricier loans ahead of schedule.
Flouting Rules | Deputy Premier Matteo Salvini said Italy would be ready to break EU fiscal rules as a way to boost employment, sending ripples through financial markets. Salvini, who has repeatedly lambasted Brussels during the campaign, is seeking to take back the initiative in the European election campaign, after being wrong-footed in recent weeks by a corruption scandal involving his economic adviser, a newly aggressive strategy from Five Star's Luigi Di Maio and losses in mayoral elections in southern Sicily.
CO2 Rethink | Angela Merkel said Germany may bow to pressure from these European peers who recently called for concerted action to protect the climate. Since Germany is Europe's biggest emitter of CO2, joining EU states seeking net-neutral greenhouse gas emissions by 2050 would be a big step.
Iran Options | European countries were key to negotiating the landmark 2015 international accord that restricted Iran's nuclear program. After U.S. President Donald Trump pulled the U.S. out last year, EU governments vowed to keep the agreement viable. But that's proved difficult and earlier this month Iranians issued Europe an ultimatum. Europe's options are few, and not very good.
Controversial Film | Poland's government is mounting a counter-offensive as a documentary about pedophilia in the Catholic Church threatens to dominate the last days of campaigning before European Parliament elections. The ruling Law & Justice party, accused by the EU of eroding the rule of law, has increased the role of the church in education during its nearly four years in power.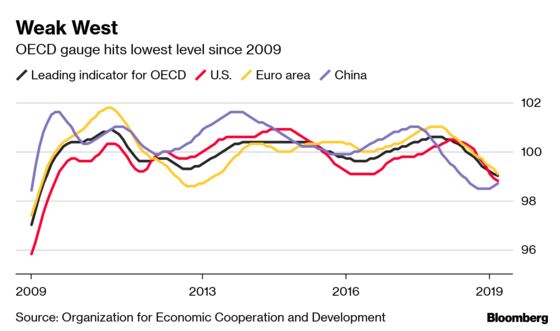 If you think there's hope for an imminent turnaround in the global economy, think again. An OECD indicator designed to anticipate turning points six to nine months before they happen fell for the 12th straight month in March to the lowest level since 2009. A measure for the U.S. is also at the weakest in almost a decade and the euro-area reading was the worst since 2013, while Chinese numbers were stable.
11 a.m. Eurostat to release 1Q euro-area GDP (second reading). Gross domestic product readings for Germany and bordering countries in Eastern Europe will also be published 
11:10 a.m. U.K. Brexit Secretary Stephen Barclay gives evidence to House of Lords committee
6:30 p.m. Event in Brussels with ECB Chief Economist Peter Praet entitled 'The Role of the European Central Bank in the European Union'
7:45 p.m. Belgium's caretaker PM Charles Michel and former PM Elio di Rupo debate on Belgian TV ahead of May 26 federal elections
9 p.m. The official candidates of Europe's main political parties running for the European Commission presidency hold a debate in Brussels
EU's digital chief Andrus Ansip in Paris participates in the G7 digital ministerial meeting, including three sessions on strengthening international cooperation on human-centric artificial intelligence