Brussels Edition: Now Hiring
(Bloomberg) -- Welcome to the Brussels Edition, Bloomberg's daily briefing on what matters most in the heart of the European Union.
European Union leaders are close to tackling head-on a question that has been on everybody's mind for months: who will fill the slew of top EU jobs opening up later this year? European Council President Donald Tusk will use a summit tomorrow in Romania to propose a process for making the appointments. There's a lot of disagreement about how to choose, in particular, the next chief of the European Commission. Europe's main political groups all have a favored candidate to take over for Jean-Claude Juncker if they triumph in EU legislative elections later this month—but leaders like Emmanuel Macron aren't eager to give them that much of a say.
Election Fever | There's a lot of electoral fever beyond the EU polls this month. Lithuania's ruling party said it would quit the government if its candidates lose presidential and EU elections, while Denmark's prime minister called national polls for June 5. Spain, though, may not be moving toward a new vote after Ciudadanos, the party that came in third in Spanish polls last month, said it was ready to work with acting Prime Minister Pedro Sanchez from the opposition.
Undersea Pipeline | The fate of the controversial Nord Stream 2 pipeline carrying Russian natural gas to Germany is likely to be decided in a courtroom. The project will next week seek assurances from the EU that it won't become subject to the bloc's revised gas market rules, which would hurt the profitability of the pipeline. But the European Commission is unlikely to bow to the pressure. 
Nuclear Tensions | The consequences of Donald Trump abandoning the 2015 Iranian nuclear accord could become clear today as Iran plans to announce how it will scale back some commitments made as part of the 2015 nuclear deal. The plans have been communicated informally to the EU, according to an Iranian official.
Greek Math | Greece's government said it would lower its annual primary surplus target to 2.5 percent of GDP from 2020 to 2022, challenging an agreement with its creditors that called for a target of 3.5 percent. While the country said it still plans to meet its debt obligations, it's unclear whether this step endangers a deal with the euro-area to ease its debt burden.
No Progress | Talks between the U.K's two main parties are set to continue today but Theresa May's cabinet ministers believe the chances of reaching a Brexit deal with the U.K.'s main opposition Labour Party are fading. That means the government's focus is likely to turn to what happens next, and how to offer Parliament a range of Plan B options to chose from
Taxing Troubles | Unfazed by successive failures to reach consensus on landmark initiatives such as levies on tech giants, EU Commissioner for Economic Affairs and Taxation Pierre Moscovici urged the bloc's finance ministers to agree on a unified position in discussions for overhauling global corporate tax rules. Some of the recipients may well discard the letter before their meeting in Brussels later this month. 
Meager  Outlook | The European Commission cut its growth forecasts for the euro area and slashed its projection for Germany as it warned that escalating trade tensions threaten to make the outlook even worse. 
German Cable | Vodafone is seeking to address EU concerns over its 18.4 billion-euro bid for Liberty Global's cable assets by offering rival Telefonica wholesale access to its entire German cable network. Vodafone needs EU approval to buy almost a third of Liberty Global.
French Favorite | The race to succeed Mario Draghi as ECB president has a new frontrunner. France's Francois Villeroy de Galhau has overtaken Finland's Erkki Liikanen in Bloomberg's latest survey of economists, suggesting that the ECB could get its second French leader before Germany even provides one. Meanwhile, the central bank could get both a new president and a revamped mandate.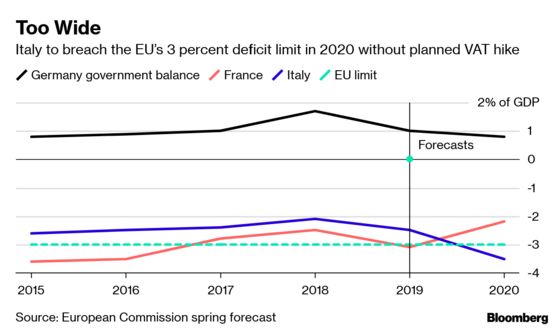 Italy's economy is predicted to grow just 0.1 percent this year and that's taking its toll on public finances, according to the European Commission's latest forecast. The country will need to raise VAT or find an alternative to avoid breaching the European Union's 3 percent-of-GDP deficit limit in 2020. While the populist government has promised not to increase VAT, it legislated a safeguard clause which will automatically raise 23 billion euros of revenue via a sales tax if no other measures are passed.
8 a.m. Panel discussion about bank resolution with SRB's Elke Koenig 
8 a.m. EU Council President Donald Tusk meets with Czech Prime Minister Andrej Babiš followed by press statements 
9:30 a.m. EU top court rules in case brought by Landeskreditbank Baden-Württemberg against the ECB disputing the decision that the lender is a "significant entity'" and falls under direct ECB oversight
11 a.m. Eurostat to release early estimates for CO2 emissions in 2018
EU's antitrust chief Margrethe Vestager speaks at Berlin technology event 
EU Commission President Jean-Claude Juncker participates in a citizens' dialogue, together with Klaus Iohannis, president of Romania, in Sibiu, Romania
Greek confidence vote debate begins in parliament