Brussels Edition: No Celebrations
(Bloomberg) -- Welcome to the Brussels Edition, Bloomberg's daily briefing on what matters most in the heart of the European Union.
After thousands of hours of negotiations with Brussels, U.K. Prime Minister Theresa May got her unruly cabinet to sign off on the terms of an orderly withdrawal from the EU in March. But no one on either side of the deal looked like celebrating. May's hollow victory speech warned of "difficult days ahead" after a five-hour cabinet meeting that drove two Brexit-backing ministers to tears. EU negotiator Michel Barnier wasn't smiling either — maybe because of the slim odds of May ramming this deal through Parliament. 
What Next | EU Council President Donald Tusk will meet chief Brexit negotiator Michel Barnier this morning and likely call a summit of EU leaders for Nov. 25 to rubber stamp the agreement struck yesterday. Before that, EU governments will scrutinize the deal, starting with mid-level officials, then ambassadors and then ministers. All of this assumes no game-changing political developments in the U.K. of course.
Tax Ruling | The EU's lower court will decide on a number of challenges today by Spanish companies, including Banco Santander. At stake are millions of euros in alleged unfair tax breaks that the commission ordered Spain to get back from the companies almost a decade ago. The ruling could guide efforts to clamp down on illegal fiscal deals across Europe.
Italian Report | Following the Italian government's decision to stick with its expansionary budget despite warnings from Brussels, the European Commission could make its next move in the standoff as soon as next week. It will likely bring forward the publication of a report saying Italy is in breach of  EU rules on debt. If endorsed by governments, it could trigger the opening of a so-called excessive deficit procedure — the first step toward possible fines.
Decision Time | While Brexit uncertainty shows no signs of abating and the Italian spat poised to escalate, the era of cheap money is coming to an end. Or maybe not. European Central Bank officials have four weeks left to make up their minds whether to freeze euro-area stimulus at current levels or pump yet more cash into the economy. Here's the run-up to the meeting that could mark the end of an era. 
EU Retaliation | The EU would retaliate against any U.S. decision to impose tariffs on car imports, though the bloc hopes it can avoid such a confrontation, European Trade Commissioner Cecilia Malmstrom said after meeting U.S. Trade Representative Robert Lighthizer. Trump has threatened to impose levies and met with his top trade advisers on Tuesday at the White House to discuss a draft of a Commerce Department investigation into whether car imports threaten national security. Administration officials decided they weren't ready to act on the tariffs for now. 
Germany First | Chancellor Angela Merkel's favored successor as party leader said she'll defend national interests against France, making her the second prominent German this week to call for a "Germany comes first" strategy. Annegret Kramp-Karrenbauer's comments borrowed a little from U.S. President Donald Trump's playbook and echoed Siemens Chief Executive Officer Joe Kaeser's remarks about the need for Germany to develop a distinct national strategy.
Eastern Exodus | A mass exodus of workers has become so prevalent across eastern Europe that the labor shortage now threatens to put the brakes on the continent's fastest growing construction market with potentially damaging repercussions. The rise of nationalism in places like Poland and Hungary, meanwhile, has led to hostility to the kind of immigration that could help fill the vacuum.
Slow Growth | Euro-area growth slowed in the third quarter, held back by a contraction in Germany, its biggest economy. Gross domestic product grew 0.2 percent, half the pace recorded in the previous period and the weakest figures the euro-area has seen since 2014. The slowdown has fueled speculation about how the ECB will respond, with some forecasters pushing back their predictions for interest-rate increases.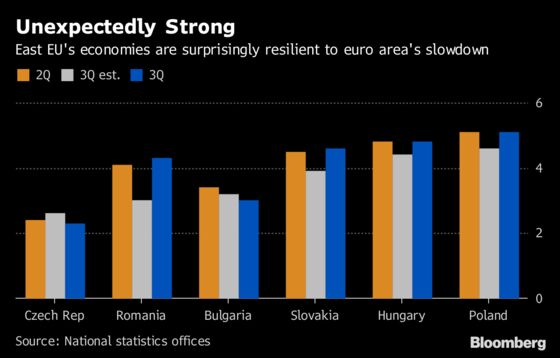 Economic growth in the EU's eastern wing exceeded expectations in the third quarter as domestic consumption offset weaker demand in the region's main export market, the euro area. The results in Romania, Slovakia, Hungary and Poland beat economist forecasts for a slowdown indicated by weaker monthly data such as industrial production and retail sales. 
8:10 a.m. Press statement by EU Council President Donald Tusk following a meeting with chief Brexit negotiator Michel Barnier

2:10 p.m. ECB Executive Board member Peter Praet delivers speech at the Credendo Trade Forum 2018 in Brussels 

EU lower court rules for the second time on the validity of European Commission decisions declaring that Spain's tax system benefiting companies, such as Banco Santander, that acquire stakes in foreign firms was illegal

EU top court rules on a case brought by a German consumer authority accusing Germanwings of unfair conduct due to the currency in which its flight prices were announced 

South Africa President Cyril Ramaphosa meets EU Commission President Jean-Claude Juncker, EU Council President Donald Tusk for EU/South Africa Summit in Brussels

EU lower court rules on a case brought by the Kurdistan Workers' Party (PKK) against EU restrictive measures targeting them due to their involvement in terrorist acts 

EU top court rules on a case referred from Austria in a dispute over Greek government bonds and an action for indemnity brought by a bondholder against Greece in Austria