Brussels Edition: Merkel's Long Exit Begins
(Bloomberg) -- Welcome to the Brussels Edition, Bloomberg's daily briefing on what matters most in the heart of the European Union.
A cabal of powerful conservatives led by former Finance Minister Wolfgang Schaeuble, who chafed under Angela Merkel's stewardship since 2000, have spotted their moment to take back control of Germany's biggest political party. Delegates from the Christian Democratic Union meet in Hamburg to elect Merkel's successor today. Top contenders are Friedrich Merz, whose political career was derailed by Merkel over decade ago, and Annegret Kramp-Karrenbauer, the German chancellor's favored candidate. The race is wide open, and the choice will determine the future path of German and European politics. Here's a look at the start of Merkel's long exit from politics.
Swiss Choice | The Swiss government may announce today its stance on the "framework" agreement, which is supposed to replace some 120 treaties that currently govern its relations with the EU. Negotiations are deadlocked, as an unlikely alliance between the anti-immigrant Swiss People's Party and the left blocks progress. The EU is threatening not to extend market access for the Swiss stock exchange if the draft deal isn't endorsed. 
Whirlwind Week | Get some rest this weekend, as next week will be a roller coaster. In addition to the long list of summit items we took you through yesterday, EU leaders will hold a special meeting on the euro area aimed at striking a final deal on shoring up the currency union. Most of the groundwork was already done by finance chiefs in marathon negotiations that produced the key outlines of a compromise. Still, leaders need to sign off on the final accord and offer some more details on how to move forward, especially on the contentious issue of a euro-zone budget.
Brexit Fog | If anyone tells you they know how Brexit is going to play out next week, they've probably had too much vin chaud from the Brussels Christmas market. While officially it isn't yet on the European Council agenda, there's bound to be some discussion, particularly if Theresa May loses Tuesday's U.K. Parliament vote on the deal. She may even delay the vote to seek a compromise with party rebels over the Northern Ireland backstop — but then what will Michel Barnier say?
Italian Dilemmas | Italian Prime Minister Giuseppe Conte will probably present a revised budget plan to the EU Commission next week, seeking to head off a lengthy sanctions procedure that could result in fines. The populist government is at loggerheads over how to temper its proposed spending spree. Positive noises from Rome — welcome as they may be — won't be enough to sway the Commission in the absence of concrete plans.
Collateral Damage | As U.S. President Donald Trump and his Chinese counterpart Xi Jinping work out details of a trade agreement involving agriculture and autos, European policymakers are concerned that a new commercial accord could damage the EU. "We don't want to be collateral damage in a political game," European Commission Vice President Jyrki Katainen said. 
Bloomberg 50 | What does Black Panther director Ryan Coogler have in common with Ben van Beurden, chief executive officer of Royal Dutch Shell? A place on the second annual Bloomberg 50 — our look at the most noteworthy people in business, entertainment, finance, politics, technology and science. To flip forward to who to watch for 2019, click here.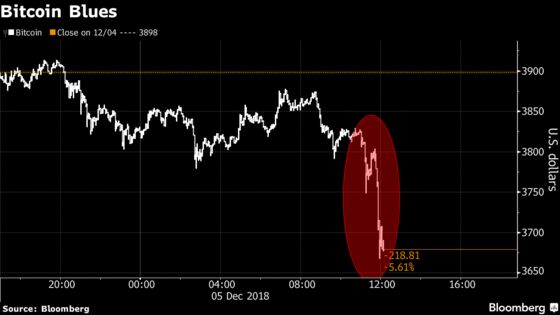 Experts, financial pundits and even European regulators warned about a Bitcoin bubble, and that slump accelerated yesterday, with the largest cryptocurrency approaching another fresh low for the year. It's now down around 80 percent from its peak, and the biggest-ever bet on Bitcoin options — a transaction of almost $1 million — is about to expire worthless. 
11 a.m. EU Commission Vice President Andrus Ansip gives press conference on artificial intelligence
11 a.m. Eurostat to release 3Q GDP (and main aggregates) and employment readings for the euro area 
12:30 p.m. ESM Managing Director Klaus Regling and ESM Chief Economist Rolf Strauch host Bank for International Settlements officials — Agustin Carstens, general manager, and Hyun Song Shin, economic adviser — at the ESM in Luxembourg
3 p.m. Delegates of Germany's CDU are scheduled to start voting on Merkel's successor as party leader. The voting may go more than one round if none of the candidates get an absolute majority