Brussels Edition: Merkel Heading Into Troubled Waters
(Bloomberg) -- Welcome to the Brussels Edition, Bloomberg's daily briefing on what matters most in the heart of the European Union.
As Angela Merkel heads to Turkey for a meeting with President Erdogan today, a fresh crisis is brewing: on the one hand, the German chancellor doesn't want to further isolate the main bulwark against migrants heading for Europe, nor allow the West to lose Turkey — a key bridge to the Middle East. On the other, Greek officials are fuming at what they see as her lack of support in their spat with Ankara over its maritime deal with war-torn Libya. Meanwhile, Cyprus is demanding EU sanctions over Turkey's drilling activities. This could go south in so many ways.
Trade Talks | High-level trade officials will gather in Davos today for the WTO's annual mini-ministerial meeting. The key question on their minds is what exactly does the U.S. want to do to fix the trade body's problems? Trump promised something "dramatic" on WTO reform and trade ministers are eager to find out if Washington has a new strategy, or if this is just more bluster. 
Italian Chaos | A regional election in Italy's Emila-Romagna region on Sunday could see Matteo Salvini's League defeat the Democratic Party in one of its strongholds, triggering chaos within the ruling coalition and upsetting investors. The vote follows the resignation of Luigi Di Maio as head of the Five Star Movement and may throw the country into further political turmoil.
Balkan challenge | The European Union's snub of two enlargement candidates on the bloc's southern flank triggered political tremors last year. Now, North Macedonia and Albania are facing pressure from another source: euro-area monetary policy. As the ECB sticks to its ultra-loose stance, the tiny Balkan economies have slashed borrowing costs and must walk a fine line between luring investors and triggering flight by cutting rates too low.
Better Grades | Fitch is expected to raise Greece's sovereign credit rating in a likely sign of confidence in the country's new government and its policies. That would still keep Greece at junk level, indicating that it still has to do more to regain its investment-grade rating, even as Prime Minister Kyriakos Mitsotakis reiterated that his main concern is to attract foreign capital.
Review Time | ECB President Christine Lagarde signaled that all options are on the table for its approach to reviving inflation as she launched the first reappraisal of monetary policy since 2003. Lagarde is benefiting from signs that a deep manufacturing slump is bottoming out, allowing policy makers to focus on the review, which will also tackle issues like financial stability and climate change.
No Truce | Top U.S. officials speaking in Davos said Washington is still considering auto tariffs against Europe and declined to say if it's still pushing for a global tech tax accord. Their comments point to a renewed transatlantic clash over everything from car levies to digital taxes in a sign that a new American focus is emerging following Donald Trump's trade truce with China.
Succession Plan | German Christian Democrat chief Annegret Kramp-Karrenbauer aims to assemble her team to succeed Angela Merkel by the end of this year, a move to assert her authority amid growing leadership uncertainty in Europe's largest nation. Her plans come as the ruling coalition has been plagued by infighting and Germany's export-driven economy runs out of steam. 
Deal Delay | EU merger watchdogs paused their review of Boeing's tie-up with Embraer for a second time as they demanded yet more details from the jet makers. While such requests can signal difficulties, they are relatively common when regulators probe complex transactions. Still, the delay will extend the decision deadline, frustrating the companies' efforts to close the deal early in 2020. 
Charge Up | Apple is pushing back against an EU initiative that would standardize chargers for all types of smartphones and devices as the European Commission considers legislation to cut back on electronic waste. The idea comes as the EU is pursuing a sweeping economic transformation as part of its Green Deal.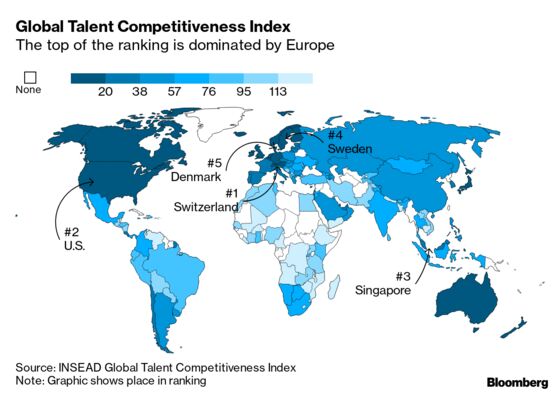 Switzerland once again clinched the No. 1 spot in a global survey on fostering and attracting talent, edging out the U.S. and Singapore, according to the Global Talent Competitiveness Index published by French business school INSEAD. Europe dominated the highest positions, with only seven non-European countries in the top 20. 
High-level trade officials to meet on Davos sidelines to discuss WTO appellate body and June biennial ministerial meeting 
EU Council President Charles Michel visits Albania and the Republic of North Macedonia
EU technology and antitrust chief Margrethe Vestager meets Zhang Ming, Ambassador of the Chinese Mission to EU
ECB publishes survey of professional forecasters
Fitch expected to upgrade Greece's rating
Bulgarian Parliament to vote no-confidence motion against the government over environment policies; motion likely to fail
German Chancellor Angela Merkel visits Istanbul