Brussels Edition: May's Rough Ride
(Bloomberg) -- Welcome to the Brussels Edition, Bloomberg's daily briefing on what matters most in the heart of the European Union.
French Attack | An attack on French soil yesterday left at least three people dead and more than 10 injured. The shooting in Strasbourg, which is being investigated as a potential terrorist act, took place while the European Parliament was in plenary session. 
Eurozone Budget | With so much noise from London, it's easy to forget that the summit this week isn't just about Brexit. Leaders are also set to mandate the design of a controversial budget for the euro area as part of a plan to shore up the common currency, according to a draft of the conclusions we obtained. A final compromise on the features of the budget will be prepared by June 2019, according to the document. 
Wiggle Room | When he meets with European Commission President Jean-Claude Juncker this afternoon, Italian Premier Giuseppe Conte is expected to yield some ground to avoid triggering disciplinary action on the country's budget. Yet with his populist deputies loathe to make concessions on expansionary spending, it may not be enough to bridge the standoff. Macron may have given Conte some unexpected leverage though.
Hungarian Rule | Hungarian Prime Minister Viktor Orban's long march toward one-man rule in the heart of the EU is about to hit a new milestone. Shrugging off the threat of sanctions from Brussels, Orban plans to push a bill through Budapest's pliant parliament today that will further tighten his hold over the country's court system. 
Brexit Contingency | The European Commission took a step toward meeting the financial industry's demands for a so-called equivalence decision that would help prevent a derivatives-market rupture in a no-deal Brexit. This is what it would look like.
Cleaner Cars | EU negotiators may make a last-ditch attempt to reach a deal before the New Year on a tighter cap on carbon-dioxide emissions from cars, after failing to seal a deal in the early hours of Tuesday. Their decision, assuming they reach one, could have profound implications for the European car industry.
Swiss Break | The EU is considering giving Swiss stock exchanges access to the single market through June, as the government in Bern tries to build support for a broader agreement on economic ties with the EU. Without an extension, Swiss-EU cross-border trading could be upended by the end of the month.
Catalan Tensions | The Spanish government is threatening to deploy its police force in Catalonia as tensions escalate. The national government warned the pro-independence Catalan administration that it may send in forces if the regional police fail to ensure order.
Amsterdam Brothels | Amsterdam's first female mayor is rethinking the city's centuries-old red-light district, where 370 windows display scantily clad women who often get jeered by drunk tourists. Femke Halsema says she wants things to change.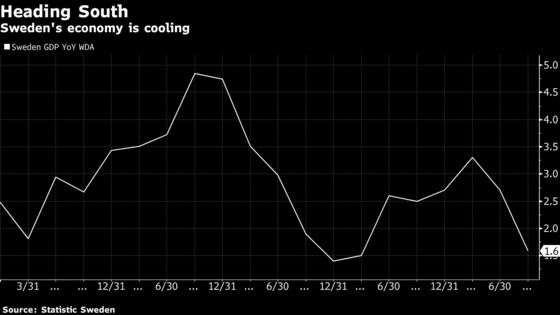 Sweden's deeply divided parliament is likely to pass a more expansionary budget on Wednesday that includes the biggest tax cuts since 2007. That could give a boost to the largest Nordic nation's cooling economy.
9 a.m. The plenary of the European Parliament in Strasbourg will debate the state of play in Brexit talks 
9:30 a.m. EU General Court rules on challenges by Les Laboratoires Servier and five makers of generic drugs, including Teva Pharmaceutical Industries Ltd., against 2014 fines for colluding to delay the release of cheaper versions of a hypertension treatment
9:30 a.m. EU lower court rules in challenge by French TV broadcaster Canal+ that Paramount Pictures' pact with EU antitrust regulators threatens the survival of France's film industry 
9:30 a.m. EU General Court rules in challenge by former Egyptian President Muhammad Hosni El Sayed Mubarak against EU sanctions
10 a.m. Cyprus President Nicos Anastasiades will debate the future of Europe with MEPs in Strasbourg and EU Commission President Juncker
11 a.m. Eurostat releases October industrial production reading 
~12 p.m. The European Parliament votes in Strasbourg on the draft EU-Japan free-trade agreement 
1 p.m. German Chancellor Angela Merkel answers questions from members of the Bundestag in Berlin
4 p.m. Juncker meets Italian Prime Minister Conte