Brussels Edition: May's Next Fight
(Bloomberg) -- Welcome to the Brussels Edition, Bloomberg's daily briefing on what matters most in the heart of the European Union.
Theresa May survived the dramatic challenge to her leadership last night, and now she must convince the EU's leaders to back her too. Today's summit gives May the chance — perhaps her final chance — to tell the bloc what she needs to get the Brexit deal through Parliament. It'll be another tough task, and her counterparts aren't prepared to revisit the agreement. But EU diplomats whisper that it's not the full story: A big fight with Europe may be exactly what will help her most.
QE Ends | The European Central Bank is poised to take a momentous step: confirming the end of net asset purchases, and thereby effectively declaring that its crisis-era stimulus has finally peaked. The decision at 1:45 p.m. in Frankfurt today will be followed by President Mario Draghi's 2:30 p.m. media briefing, when he'll explain why he acted now — when the economy is slowing — and hopefully signal what happens next. 
Benchmark Vote | A committee vote today in the European Parliament on low-carbon benchmarks could be more important for the financial industry than it sounds. Lawmakers attached an amendment that could extend the life of important lending rates such as Euribor and Eonia. The industry has argued that time is too short to make the switch to new rates or whip the old ones into shape by 2020, as originally planned.
Italian Compromise | The commission will assess the quality of the measures in Italy's new budget proposal, with the possibility of fines at stake. After weeks of defiance by his populist government, Prime Minister Giuseppe Conte made a significant concession in talks with European Commission President Jean-Claude Juncker yesterday. Conte said he offered a budget deficit target for next year of 2.04 percent of output, down from a disputed 2.4 percent.
French Confidence | French Prime Minister Edouard Philippe's government will face a no-confidence vote today, following a motion filed by left-wing groups. While the administration has little to fear given its majority, it will force the premier to detail his budget plans for 2019 amid persistent complaints by Italy that France's spending enjoys much more lenient treatment by the EU. 
Clearinghouses Cleared | London's derivatives clearinghouses could be allowed to continue serving big banks in the EU for 12 months after a no-deal Brexit as part of the bloc's preparations to avert turmoil in financial markets. Similar moves to mitigate market turmoil from the U.K. leaving the EU without a deal are being adopted by member states. Germany is giving British financial firms a chance to continue operations in the country and making relocation more viable.
Trade Risks | The U.S. rejected the EU's proposal to reform the World Trade Organization, dealing a blow to international efforts to bolster the Geneva-based body, which has come under attack from President Donald Trump's administration. The WTO now enters a precarious year in which it may lose its ability to mediate disputes.
Big in Japan | Bucking the trend of trade protectionism, the EU Parliament approved a draft free-trade pact with Japan, removing the last political hurdle to Europe's biggest market-opening accord. The deal will eliminate virtually all tariffs between the two partners, expand markets for services and public procurement, and bolster regulatory cooperation.
Danish Wallets | With an election due within the next six months, the head of Denmark's biggest party and the woman who polls show may become prime minister spoke of tougher regulation for those with "fat wallets." The tone of the debate has shifted after multiple scandals in the financial industry, including a $230 billion money-laundering case, and billions of dollars in tax evasion by financiers accused of defrauding the country by claiming rebates on false dividends.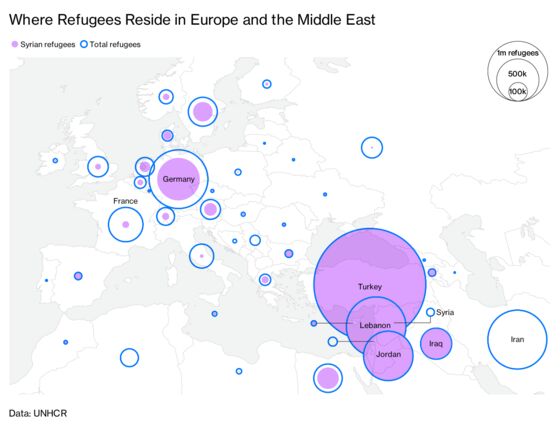 As EU leaders gather in Brussels to discuss migration, the tolerance of the bloc's most important partner in stemming refugee flows is wearing thin. Turkey already hosts the largest refugee population in the world — some 4 million people — and it may soon reach a tipping point. Meanwhile, President Recep Tayyip Erdogan announced a new military operation against U.S.-backed Kurdish militants in northern Syria "within a few days."
9:30 a.m. EU General Court rules on challenges by Deutsche Telekom and unit Slovak Telekom against 2014 European Commission fines for violating EU rules by thwarting Internet rivals
9:30 a.m. EU General Court rules on challenges by the cities of Brussels, Paris and Madrid against a 2016 European Commission decision to increase Euro-6 emissions standards for light passenger and commercial vehicles
9:30 a.m. EU lower court will rule on a 2015 challenge by Alzchem against a European Commission state aid decision
9:30 a.m. EU lower court will rule on a number of challenges by Ryanair against European Commission state aid decision relating to airports
9:30 a.m. EU top court rules on challenges by Gascogne and Kendrion to get compensation for having suffered long delays in getting a judgment in an antitrust appeal from the EU's lower court
9:45 a.m. EU Parliament's ECON committee votes on a bill that could help extend the lifespan of critical financial benchmarks like Euribor or Eonia
11:45 a.m. NATO Secretary General Jens Stoltenberg meets with the Ukraine President Petro Poroshenko
12 p.m. EU leaders start a two-day meeting in Brussels, with pre-summit European party gatherings 
1 p.m. Poroshenko holds joint press point with EU Commission Vice President Valdis Dombrovskis
2:30 p.m. ECB is set to conclude three years and 2.6 trillion euros of asset purchases, marking a subdued victory against deflation just as the economic outlook darkens
EU top court adviser gives non-binding opinion in a challenge against Google over its use of snippets from publishers in its search results