Brussels Edition: March 29 or 2021?
(Bloomberg) -- Welcome to the Brussels Edition, Bloomberg's daily briefing on what matters most in the heart of the European Union.
The high-stakes game of Brexit poker continued over the weekend, with U.K. Prime Minister Theresa May infuriating cabinet colleagues by pushing back a vote on her deal in the House of Commons to March 12 (17 days before exit day) to give her more time to persuade the EU to sweeten the terms. Today, May is using the second day of a summit in Sharm el Sheikh, Egypt, to hold private talks with German Chancellor Angela Merkel and Irish Prime Minister Leo Varadkar. Negotiations in Brussels are then set to resume tomorrow, with EU officials considering telling the U.K. that any delay means 2021 – not just three months – in a tactic partly aimed at persuading Brexit hardliners that this deal is better than that. 
What's Happening

Huawei Debate |  The telecoms industry's annual flagship event in Barcelona, the Mobile World Congress, kicks off today amid growing divergence between the U.S. and Europe over whether Huawei poses a security threat. The world's biggest telecommunications trade show has seen many product launches, but also a fair share of memorable flops. Here are a few. 
Budget Blueprint | France and Germany agreed on a blueprint for the eurozone budget, a contentious tool that finance ministry officials will discuss later this week. Their joint plan foresees an instrument to support national reforms and finance investment, without specifying the size of the pot. While the Franco-German contribution will be the basis for talks, it could face pushback by skeptics, especially regarding financing and governance. 
Cloud Alarm |  As the U.S. pushes ahead with its "Cloud Act," Europe is scrambling to curb its reach. Under the act, all U.S. cloud service providers have to hand American authorities data stored on their servers regardless of where it's housed,  potentially giving the U.S. the right to access information on large swaths of European people and companies.
ECB Rethink | With less than two weeks to go before the ECB's Governing Council meets, policy makers are gearing up to discuss whether their response to the eurozone's economic slowdown should include an update to the central bank's targeted lending program. But some officials are wondering if they shouldn't also deliver a more permanent fix to the ECB's long-term funding for banks.
Venezuela Pleas | EU countries called on law enforcement and security bodies in Venezuela to avoid use of force and allow for the entry of aid. Their pleas come after attempts to deliver humanitarian aid failed, prompting the country's opposition and U.S. allies to suggest a more forceful multilateral move against Nicolas Maduro's regime. The EU's show of unity comes after the bloc failed to agree to jointly recognize Venezuelan National Assembly leader, Juan Guaido, as the country's interim president.
Elon, Non | Elon Musk's push to include space technology in U.S. trade talks with the EU is running into French resistance. The rejection by Paris is the latest obstacle to emerge before negotiations begin, adding to a list of industries that France considers off-limits, such as agriculture.
Viva for Longer | Spain just surpassed Italy to become the world's healthiest country. That's according to the 2019 edition of the Bloomberg Healthiest Country Index, which ranks 169 economies according to factors that contribute to overall health. Take a peek at the health rankings here.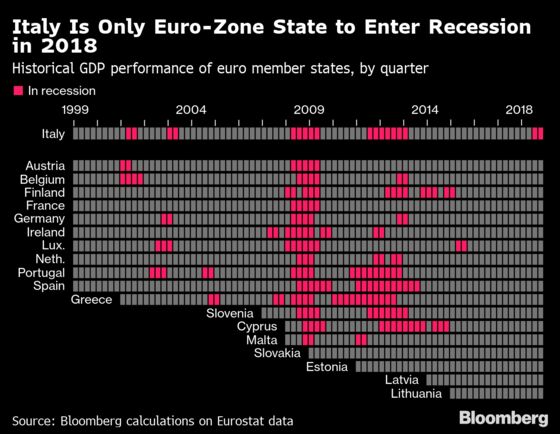 Italy's recession at the end of 2018 was almost unprecedented among the euro area's major members and provided further evidence of the self-inflicted damage to the economy. Its two straight quarterly contractions highlight deeper issues; it's also the region's only major economy to slip into recession alone. As shown in the chart, that amounts to a dubious distinction.
EU-League of Arab States summit in Egypt
Bank of England Governor Mark Carney holds joint press conference with FCA and US CFTC chief to "issue a joint statement on the continuity of derivatives trading and clearing between the UK and US post-Brexit"
Mobile World Congress in Barcelona; EU Commissioners Mariya Gabriel and Guenther Oettinger attend