Brussels Edition: Italian D-Day
Europe's eyes will be on Italy today as the country announces its new fiscal targets, closing out at least one part of a political struggle that's kept investors and EU officials on edge all summer. Markets will want to see how much money is earmarked for expensive electoral promises, an issue that has pitted the country's two populist deputy-premiers, Luigi Di Maio and Matteo Salvini, against Finance Minister Giovanni Tria. The coalition government's first budget will show how far it is willing to go to widen its deficit in defiance of EU rules and risk the wrath of investors.
Second Chance | French President Emmanuel Macron has said the pro-leave side "lied" in their Brexit campaign and that he'd welcome Britain back should its voters decide in a second referendum to stay in the EU. Asked in a Bloomberg interview at Wednesday's One Planet Summit about giving up the opportunity of luring London bankers to Paris, he responded: "This is about history, not about domestic interests," though he insisted it's not up to him to decide if Britain holds another vote.
Corbyn's in Town | Talking of another vote, Jeremy Corbyn will travel to Brussels today to meet with EU officials including the bloc's chief Brexit negotiator, Michel Barnier. The Labour Party leader heads to the Belgian capital the day after the end of a four-day party conference in Liverpool, at which Brexit was a key theme. Delegates voted overwhelmingly in favor of a motion that keeps open the option of campaigning for a second referendum.
Erdogan's Outreach | Turkish President Recep Tayyip Erdogan is due in Berlin for a visit spurred by his clash with the U.S., which his handshake with President Donald Trump at the U.N. did little to resolve. Undeterred by the criticism of his policies and methods in Angela Merkel's government, his outreach to Turkey's biggest economic partner is about rebuilding ties so frayed that he once compared German officials to Nazis. Look for him to talk up business opportunities in Turkey (he'd like to expand the customs union with the EU) and for Merkel to renew general support for Turkey's stability.
Tech Control | First Google, then Amazon — the EU wants greater control over online platforms. Brussels has assigned an ad-hoc group of experts to monitor their practices, including search rankings and user-data access, to inform and advise EU officials on tech policy. The group's first meeting takes place today. Separately, the EU's economy ministers will gather to discuss the development of artificial intelligence in Europe. They're also expected to announce that 25 countries in the region have signed on to an EU initiative to pool national and EU resources to support the development of supercomputers.
Banking Watchdog | The European Central Bank has narrowed the field of contenders to become its next head of banking supervision. Sharon Donnery, deputy governor of the Irish central bank, European Banking Authority Chairman Andrea Enria, and the head of France's market regulator Robert Ophele will vie to succeed Daniele Nouy when she steps down at the end of the year, a person familiar with the process told us. Depending on who one asks, the favorite appears to be the Frenchman or the Irish banker.
Managing Brexit | EU27 envoys in Brussels held talks yesterday on how to manage a no-deal Brexit. The contingency planning will include unilateral measures that may have to be taken without the U.K.'s cooperation. The crucial question that remains unanswered is when the last possible date is for the bloc to declare that negotiations on an orderly withdrawal have failed.
Summit Accident | Dutch Prime Minister Mark Rutte said the EU and the U.K. have the next four to six weeks to "bring it back together" after last week's fractious summit in Austria. In an interview at the Bloomberg Global Business Forum in New York on Wednesday, Rutte said that "somehow it ended up in an accident where both the European Union and Theresa May, the U.K., seemed to drift away a little bit and that is not OK."
Breaking the Lease | A U.K. court is considering whether the European Medicines Agency can use Brexit to get out of its 500 million-pound rental bill in London. At a pre-trial hearing yesterday Judge Marcus Smith asked what would happen if Brexit was reversed: "Suppose there's a second referendum?" he said. The EMA, which is moving its headquarters to Amsterdam, argued that Brexit justifies ending its 25-year lease, with 21 years left to run. The agency pays 13 million pounds a year for more than 10 floors in London's financial district.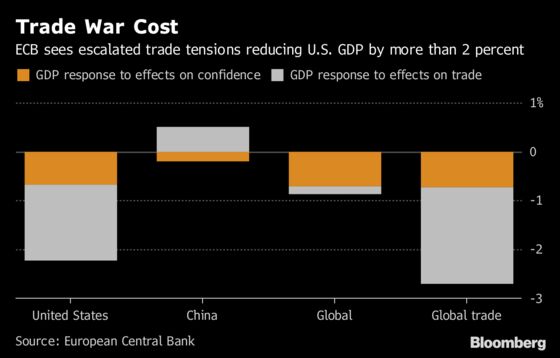 The World Trade Organization will today publish its revised global trade forecast -- a key indicator for evaluating the impact of the escalating trade war between the U.S. and China. In April, the WTO said increased trade tensions were likely to depress global growth rates, while according to European Central Bank research published yesterday, a global tariff tit-for-tat could boost China's $12 trillion economy and hurt the U.S. expansion. President Trump's trade salvos -- and the global retaliation against U.S. companies -- have forced companies to halt certain investment decisions and resulted in increased prices worldwide. 
9 a.m. European Banking Summit takes place in Brussels
9 a.m. Civil Liberties MEPs will discuss  a draft resolution on the Facebook-Cambridge Analytica case 
United Nations General Assembly in New York
The WTO to publish its revised trade forecast
EU Council President Donald Tusk to address at the 73rd UN General Assembly debate in New York
EU Competition chief Margrethe Vestager in Washington, participates in the Trilateral with DoJ and FTC 
EU Competitiveness Council in Brussels; to hold, among other things, a public policy debate regarding Artificial Intelligence and Robotics
Like the Brussels Edition?