Brussels Edition: How could we forget?
(Bloomberg) -- Welcome to the Brussels Edition, Bloomberg's daily briefing on what matters most in the heart of the European Union.
Google's battle against French proponents of a worldwide "right to be forgotten" enters a decisive phase at the EU's top court today, highlighting the growing tensions between privacy, freedom of speech and state censorship. A non-binding opinion from the court's advocate-general will provide some clarity on the scope of an order forced upon the search engine giant in 2014 to comply with requests to remove links to information if it's outdated or irrelevant. The opinion could show which way the EU court's final decision will go and whether Google will have to intensify removals.
Romanian Split | Romania will outline priorities for its first-ever EU presidency during a two-day visit of senior European officials to Bucharest starting today. While such occasions usually feature determined efforts by the host nation to project domestic unity, the split in Romania between the president and prime minister will be on display tomorrow when European Commission President Jean-Claude Juncker holds separate press conferences with each.
Merkel's Syrtaki | German Chancellor Angela Merkel today begins her first visit in five years to the crisis-scarred Greek capital that has come to define her rule. The economy, migration and the Macedonia deal between Athens and Skopje will dominate her talks with Greek leaders, sending a legacy-building signal in the country that was at the epicenter of the geopolitical crises that shaped Merkel as Europe's preeminent leader.
Tech Tax | Having failed to get an EU-wide tax on digital companies like Facebook, Google and Amazon, Austrian Finance Minister Hartwig Loeger is set to impose a national one. He's flagged a 3 percent levy on advertising revenue that may be approved during a government conclave today or Friday, contributing some 60 million euros to help fund around 5 billion euros in tax cuts — assuming this week's massive snowfall doesn't scupper the gathering in the hills west of Vienna.
Italian Infighting | When they are not busy recruiting nationalists in their campaign against Brussels, Italy's populist leaders are arguing over what to do about troubled lender Carige. Past experience shows that there are no easy or cheap solutions, and that the real question for investors is whether the crisis could spread.
Transatlantic Trade | The EU Commission is preparing to ask the bloc's governments for a green light to start negotiations with the U.S. on a free-trade deal, with hopes of preventing American tariffs on foreign cars. But it also has a warning for Trump: the EU won't accept just any China-U.S. deal if it discriminates against European companies.
Hungarian Cuisine | A restaurant founded during the heyday of the Austro-Hungarian Empire is engulfed in a dispute over Viktor Orban's governing style — deemed by his opponents as authoritarian — after it won the catering contract for the cafeteria at the site picked by the Hungarian prime minister for his new office.
Tesla Road Trip | Driving an electric car around town is one thing, but what happens on a long road trip? A lot, and not all of it good, Marie Mawad reports, after making a 715-mile, battery-powered road trip from Paris to Mannheim and back in a Tesla Model S.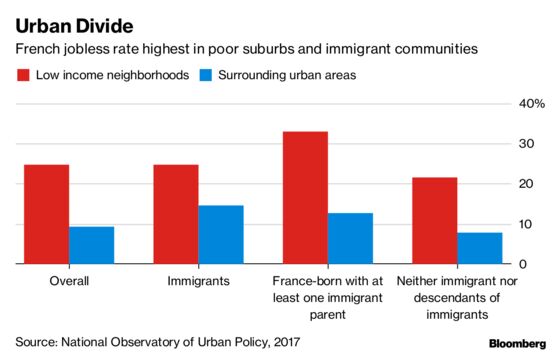 The gap between the haves and have-nots and the perception that Emmanuel Macron doesn't care has cost him during the "Yellow Vests" protests roiling Paris and other cities. Now his government is testing a subsidized program to combat employment discrimination, in France's boldest attempt yet at affirmative action in a country that has struggled to integrate waves of immigration in the postwar era.
8 a.m. Bulgarian hauliers will be joined by colleagues from Romania, Hungary, Poland and Latvia in a protest outside the European Parliament in Brussels against the EU's planned tightening of rules on trucking services.
9:30 a.m. EU top court adviser gives non-binding opinion on how far-reaching the so-called right to be forgotten should be, in a dispute between France and Google with EU-wide consequences
EU Commission President Juncker, together with the College of Commissioners, participates in the opening ceremony of the Romanian Presidency of the Council of the EU, in Bucharest
EU trade chief Cecilia Malmstrom continues talks in Washington, including with U.S. Treasury Secretary Steven Mnuchin, to discuss EU plans to screen foreign direct investment
Austria to unveil broad tax reforms, including a potential 3 percent levy on the advertising revenue of tech giants