Brussels Edition: Getting Brexit Done
(Bloomberg) -- Welcome to the Brussels Edition, Bloomberg's daily briefing on what matters most in the heart of the European Union.
Within the past 24 hours, a Brexit deal has seemed exasperatingly within touching distance, only for a series of conflicting messages, denials and clarifications to muddy the waters. But with hours to go before a critical summit of European leaders, the signs point to an unstoppable political will to finally put an end to a divorce saga that has dragged on for years. The big question is, of course, whether any potential deal will secure the backing of an unruly British Parliament and what the implications would be if it doesn't. 
 
Turkish Trouble | Another hot potato on EU leaders' plate during their two-day meeting is Turkey's incursion into Syria — a move that prompted the bloc's foreign ministers to curb arms exports to the country, and Donald Trump to write this legendary letter. That and Turkey's controversial energy exploration off Cyprus have exacerbated tensions already heightened by the Turkish President's crackdown on domestic political opponents. 
Money Talks | Discussions on the EU's seven-year budget were always going to be tricky as Britain's (probably) imminent departure from the bloc leaves a hole that must somehow be plugged. During their summit, leaders will discuss the "volume" and the conditions attached to the disbursement of the trillion-euro funds, but with the latest compromise proposal being shot down by EU countries earlier this week, the aim of coming up with figures by December appears ambitious . 
Ursula's Plans | This could get slightly awkward. Leaders will hear about the European Commission's priorities for the next five years from President-elect Ursula von der Leyen. Problem is, her team won't start on time after a debacle involving France's pick, which dealt an embarrassing blow to Emmanuel Macron.
Italy's Budget | Italy's government is counting on the goodwill of EU partners to start delivering on promises to voters, but the coalition already is paring down its ambitions. It has made promises that will widen the country's structural deficit slightly in 2020. That will require flexibility from the Commission, which must sign off on the plan.
Spanish Turmoil | Prime Minister Pedro Sanchez is under pressure to restore order in Catalonia after a night of violence in cities across the region in the wake of jail sentences handed down to separatist leaders. This is all playing out against the backdrop of a campaign ahead of an election in November, raising the stakes for the Spanish premier as he comes under fire from political rivals to respond.
Major Shift | The German political class is preparing itself to deliver bold fiscal stimulus if the economy needs it. With Europe's largest economy potentially facing a major hit if the Brexit negotiations unravel or the conflict in Syria spirals out of control, here's what is focusing minds in Berlin and why. Meanwhile, Bundesbank President Jens Weidmann said stepping up spending is "completely disconnected" from reality.
Chip Control | EU antitrust chief Margrethe Vestager ordered Broadcom to drop allegedly unfair clauses that may compel set-top-box makers to use its chips, deploying a rarely used weapon meant to prevent victims from suffering while probes drag on for years. The move follows criticism that probes into Google and Intel took so long that by the time fines were levied, victims were thwarted. 
Dirty Money | After finding itself at the epicenter of a money-laundering scandal — involving transfers from Russia to the West — Estonia is staking a claim on the fines imposed on the nation's banks as a result. Its finance minister thinks this could actually raise a lot; he took to Facebook to say this could bring in hundreds of millions and "possibly about billions."
Scooter Tensions | Luxembourg didn't just have EU finance ministers swoop in last week. Bird, one of the world's largest scooter companies, did the same, just in a more cloak-and-dagger fashion. Rows of its scooters suddenly appeared overnight in the city's banking district, taking the mayor's office by complete surprise.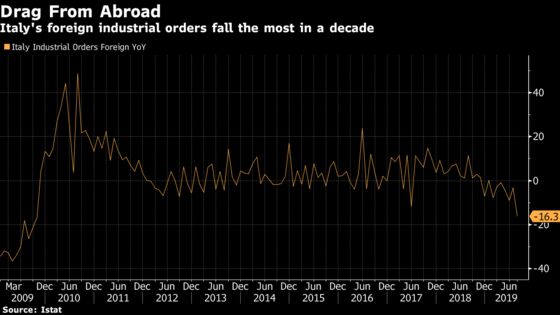 Italy's manufacturing slump is set to deepen in coming months after industrial orders from abroad shrank the most in almost a decade. Cooling global trade and a slowdown in the currency bloc are further complicating the outlook for Europe's second-largest manufacturer. Italy's statistics office yesterday said industrial orders fell 10% in August, the biggest decline since October 2012. 
Prime Minister of Poland speaks at Friends of Europe event in Brussels
3 p.m. EU leaders meet in Brussels to discuss Brexit, climate change, EU enlargement, measures against Turkey, confirm appointments of the European Commission and ECB Presidents