Brussels Edition: German Succession
(Bloomberg) -- Welcome to the Brussels Edition, Bloomberg's daily briefing on what matters most in the heart of the European Union.

The race to succeed the German Chancellor Angela Merkel as head of her Christian Democratic Union looks set to go down to the wire. Candidates hold a panel debate in Berlin today, the final roadshow before a Dec. 7 convention vote on the party chairmanship. The outcome could have significant implications for the future direction of the EU. As Merkel prepares to step down after 18 years at the head of Germany's dominant postwar force, the CDU is as divided and polarized as the nation at large.
Climate Talks | Electing Merkel's successor, Italy's brinkmanship over a Eurogroup meeting and the U.K. Parliament debate on the Brexit deal are the hottest topics on next week's agenda. But none is more existential than meetings in Katowice, Poland — of all places — on stopping catastrophic climate change. Scientists say we'll hurtle down a path to destruction if governments don't act together to cap global warming. 
Inflation Path | The European Central Bank will get a final update on inflation in the euro area today, two weeks before policy makers are set to announce an end to bond buying. German and Spanish data suggest consumer-price increases were running at a weaker-than-expected pace in November, which would take the rate back below 2 percent for the first time in six months.
Swiss Decision | Switzerland must decide as soon as today whether to enact a Plan B to ensure EU-based market participants can trade shares on Swiss exchanges in case its recognition under the MiFid II regime expires at year-end. Talks with the EU over a comprehensive economic partnership are gridlocked, and Brussels has made further recognition contingent on an easing of the impasse. 
G-20 Tango | The meeting of world leaders started on the wrong foot as Trump threatened car tariffs and Macron accused the U.S. president of hurting allies. Meanwhile, Merkel struggled to even get to Buenos Aires. This afternoon's update by European Commission President Jean-Claude Juncker and European Council President Donald Tusk on the latest drama will be interesting, to say the least. 
Cyber Warfare | In a world where online influence campaigns, network breaches and cyber-attacks on critical infrastructure are also increasingly military threats, NATO wants to be ready to respond. Check our dispatch from the alliance's cyber warfare exercise taking place on Russia's doorstep. 
Warsaw Blues | The Polish government renewed its call for a "re-Polonization" of foreign-owned media and banks, adding to concerns about the country's continued flirtation with authoritarianism. Ruling-party officials have accused the foreign-owned media of an anti-government bias and called for changes in media rules to force out non-Polish outlets. 
Populist Wine | Amid all the doom and gloom about all things Italian, there's one asset that's actually booming: Prosecco sales are projected to reach 412 million bottles annually by 2020, up from 150 million a decade ago. But Italian sparkling wines are more than mimosas, Elin McCoy writes. And "unlike populist Prosecco, these are made with the same grapes and labor-intensive method used in Champagne."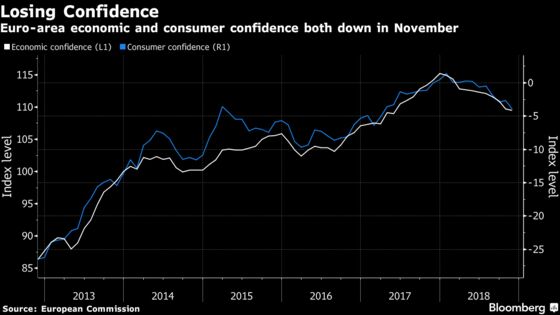 Euro-area economic confidence slipped for an 11th straight month, further damping expectations that the currency bloc will rebound from a growth slowdown and complicating the ECB's plans to pare back stimulus. Adding to the string of bad news for the continent, Swiss and Swedish economies unexpectedly contracted in the third quarter, raising further doubts about the strength of European growth this year. 
8 a.m. Dechert merger conference with head of French authority, CMA and EU officials 
11 a.m. Eurostat to release euro-area inflation estimate for November and unemployment reading for October
1:30 p.m. EU Commission President Juncker and European Council President Tusk hold a joint press briefing in Buenos Aires ahead of the G-20 Summit
6 p.m. The three top candidates to succeed Merkel as head of her Christian Democratic Union hold panel debate in Berlin